Pronto Services: Helping Find Good Foreign Tenants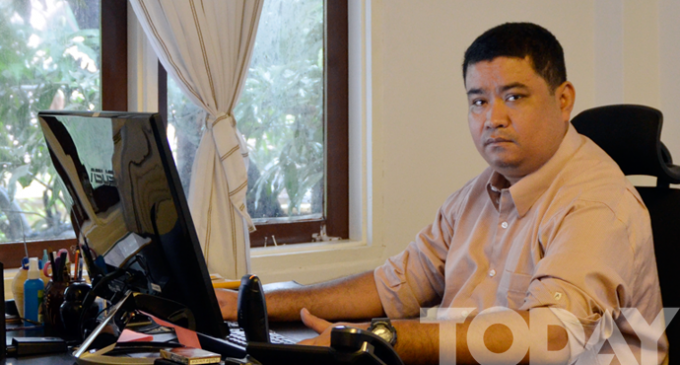 With the removal of economic sanctions, Myanmar has begun to see a stream of foreign business people coming in. For these people, one of the priority considerations is accommodation. Here is what Pronto Services can do for the good of both the landlord and the tenant, according to its Managing Director U Robin Aung Saw Naing.
How and when Pronto Services started up.
I once worked with an NGO for about 17 years. Eventually I got into  contact with a foreign professional network. While working as a local NGO adviser in 2013, I often received calls from some of my contacts making inquires or seeking help, mostly concerning houses, office spaces, education for their children etc. As my primary interest lies in becoming an employer rather than in being an employee, I did whatever I could for them, and  so I began to have a growing interest in the business of housing. At the time I did not have enough experience to take up housing as a business, but fortunately, my experience in helping my networking foreigners with whatever ideas and suggestions I could give stood me in good stead. At that time in Myanmar housing was done on traditional lines. As a man with an innovative turn of mind, I decided to try new ideas on this job. I made study trips to some South-East Asian countries in connection with real estate business. A friend of mine in Europe provided me with information on how they were doing real estate business over there. We went into a brainstorming session making a blend of my own ideas with theirs to turn out a brand new business model. In this way I managed to launch Pronto Services in April 2013 with 4 employees to start with, then increasing the number to 25 as it is today, including foreigners.
Service
Our business concept is simple: First, we don't own any piece of property. We only provide services, arranging business deals between people. Our clients, among them those from embassies, UN, NGO, etc, have  little time for personal inspection of houses or office spaces they wish to have, so they make enquires about them by e-mail, and we send them our customerised software which enables them to see what they want to as if in person. They can see the properties in minute details:place speci-fications and location with the aid of Google Earth maps. We give our password and user names to a number of house-hunting foreigners who seek our help. That saves them the trouble of going from house to house to see over them. That also means no undue annoyance to the house owner. We go to those prospective buyers or tenants and make a presentation with the aid of an iPad loaded with a short list of their stated requirements. There, if they find something to their liking, we would take them to that place at our own expense. Then we would start negotiating, with legal advisers taking part in the process. We don't take any agency fee. We only take an equavalent of one-month house rent from the house owner.
We make an arrangement for direct contact between the house owner and the tenant. We do it without any middleman. We also make sure the house owner is a bona tide owner. We offer after-sale service such as finding a housemaid for them, a gardener, etc, as well as  maintenance service, dealing with power failure, water supply, things like that.
Prospects for real estate
I'd like to say real estate prospects in Myanmar are not yet as good as they should be. There's still much to do. The more creative you are, the greater the success will be. That's why we do a monthly brainstorming session. To me it seems there's something absurd about our property market in terms of supply and demand. We're now seeing foreign companies coming in, a number of them serious about doing businesses here. That means, you see, demand is there  already. Then, what about supply? We have it too. The problem is the quality of supply is not up to international standard. House owners should see to it that their houses meet the minimum facility requirements such as toilet bowl, shower, that sort of thing–the least they should do for foreigners.
Training
We place high value on pay package. In any workplace or office it's important to have a healthy working environment. Our package to our employees includes not just a monthly salary. It covers their healthcare expenses. We give them the privilege of free medical treatment at our recognized clinics for themselves and their families. We provide them with free      lunch and free training courses. Transportation is free. We also provide free laundry service for their uniforms. We pay for their training-related overseas trips . It we keep going on without any training we won't be able to compete with foreign companies. Developing the employee's capacity is one of the best ways to gain a competitive edge. International companies are better equipped with experiences and resources. Our failure to create a happy working envi-ronment will only result in employees leaving us for  better workplaces.
Future plan
We have planned to add many more to our Pronto Services, but not yet decided on any of them. We've thought of going on study trip to South-East Asian countries and also working in close cooperation with our real-estate agents. The Pronto Services will contribute whatever it can to these efforts. We also like to offer similar good services to the Myanmar people, but it'll take some time.
Address:
No. 177, Nguwah St, Eastern Race Course Road, Near Suzuki Car Showroom, Tamwe Township, Yangon.
Ph: 09 448026156, 09 2050107
Translated by Nyunt Thaung