Myanmar-Malaysia SMEs Products & Services Exhibition And Seminar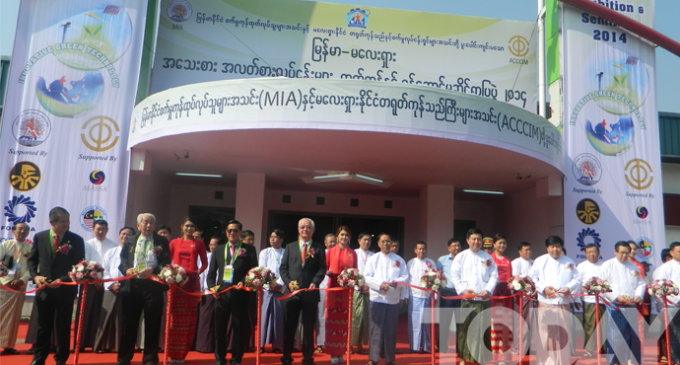 The Myanmar-Malaysia SMEs Products & Services Exhibition & Seminar 2014 co-organized by UMFCCI and Association of Chinese Chamber of Commerce and Industry Malaysia (ACCCIM) was held from feb 27- Mar 2, 2014 at the Defence Services Exhibition Hall on U Wisara Road, Yangon.
On the occasion some Malaysia entrepreneurs participating in it were interviewed by TODAY as follows.
Mr Stanley Siew, Marketing Manager
Dyno Klang Fire Protection Engineering SDN-BHD
www.dynoklang.com.my
Our mission being Fire Safety, we supply fire equipments. A 100-plus small-time products of ours are eco-friendly, and go out to oversea as well as local markets. We provide for Installation, Consultancy, and Design as well as Training of Fire Protection which is followed by the issue of local certificates. Then, After Sale Service and Maintenance also. We have been awarded certificates of MFP (Malaysia Fire Protection Association), CIDP (Construction Industry Development Board), and FELDA (Felda Holdings Bhd) that are testimony to our strong establishment and best efforts. We are now holding talks with Distributor, Dealer, or Construction Developers. Whoever interested in Fire Protection System are welcome to make enquiries.
Mr Lee Ming, Sales Executive
Juan Kuang Electric Fans Manufa-cturer Sdn Bhd www.mastar.com.my
We have been running the manufacture of electric fans, for household but not industrial use, for more than 30 years. They are more than a hundred by type and model. We provide for Sale & Service Centre to be followed by After Sale Service. All these are meant to ensure Quality Control for our products on the market. Also, one year warranty is given, and Minimum Service Charge in the event of any product disorder. Myanmar is opening up economically to become an emerging market, so we felt we should come here to win a market share in competition with others.
Mr K C Er, Development Director
Kyodensha Technologies (M) SDN BHD
www. elock2u.net
Apart from Lock Accessories we produce CCTV's developed in our own style. There's a Control System also, called Outline of Bus DVR System. Fitted outwards and inwards of the bus, this system will make it accident- free. Even when an accident is unavoidable the damaged condition of the vehicle can be analysed to assess insurance accurately through reviewing of camera's record. Again,  it allows the reckless driving habit of Bus Driver to be recorded. This should be useful to bus services. The DVR System, once connected to operation Recorder Guages, will make for lessened use of fuel oil. For  Myanmar with great economic opportunities we're prepared to find a Myanmar Local Partner, to penetrate local Market.
Ms Lim Tze Hoon, Business Manager
NSI Sistem Rkk SDN BHD
www.srkk.com
We've come here to see for ourselves how we could provide a complete IT solution for companies and establishments. Headquartered in Malaysia, our company has passed its 60th year and has a branch in Singapore. With a strong partnership with Microsoft, HP and DELL, SRKK is providing the best IT solutions to Customers. Our integrated IT solution and Services, more than 40, covers: cloud — Office 365 (Exchange, Lync, SharePoint, Office Pro); Windows Intune — PC and Mobile Device Management, and Technology — Microsoft's Sharepoint, Exchange, Lyne, Window 8.1, Windows Server 2012, Software Volume Licenses and Surface. Whoever interested are welcome to visit our Website.
Ms Sharon Yap, Manager
Kok San Machinery Trading
SDN BHD
www.koksan.com.my
Our company with a plant in Malaysia produces food process machines such as meat grinder, onion grinder, potato peeler, toaster, roaster, beans grinder, etc. There're more than 170 products, and you may visit our Website to view them. Now we've come here to introduce our products, and to find a prospective Represen-tative.Our 35 year experience should speak for itself. Of course, there's After Sale Service. Please visit our Website.