Amitav Ghosh, the creator of Glass Place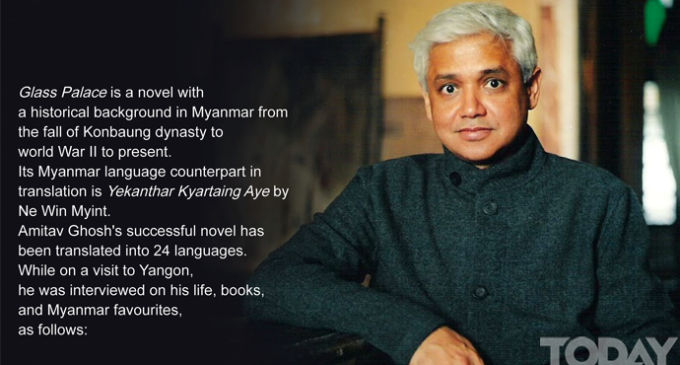 Please firstly introduce yourself
I was born in Kolkata in 1956. Currently I and family reside in New York; we have a house in India also. In New York we have the children for togetherness; in India I have more quiet time for writing.
Your life as an educator at universities . . .
In 1999 I was at Queens college Faculty; then first served as Distinguished Professor in Comparative Literature at City University of New York. Since 2005 I have been visiting professor to the Department of English in Harvard University. I teach writing at fairly many Universities, taking 2-3 months at a time.
Your Glass Palace was translated by Ne Win Myint be title Yekanthar Kyartaing Aye. Your memories during its creation . . .
There are many. My uncle and family on Father's side lived in Mawlamyine before world War II. After 1942 they returned to us in India. He was a great source of stories and anecdotes concerned with Myanmar. In about 1995 I came to Myanmar to do research for writing Glass Palace. It took me five years and two Myanmar trips to write the novel.
Prizes Glass Palace has won you …
It won Grand Prize for Fiction at Frankfurt eBook Award, 2001. It is known to me that Yekanthar Kyartaing Aye won National Litera-ture Award in 2012.
For going places in Myanmar, where have you been to?
A considerable number of historical places, like, Putao, Mrauk Oo, Sittwe, Bagan, Manda-lay, Mount Popa, Tachileik, etc. Mrauk Oo is difficult of access: from sittwe, you have to go there by car or boat. The car ride takes a very long time. But the beauty of Mrauk Oo is worth any trip.
What Myanmar foods do you like?
Pickled tea, and Kachin fare. Foods available in. Putao are so good, especially fish and pork dishes. My favourite Kachin restaurant in Yangon is 'Jingphaw Myay'. Among Myanmar foods, I like Mohinga, and noodles with coconut oil gravy also.
Any more books on Myanmar under conside-ration?
No idea for any book at present. Myanmar is seeing a great many changes. A fast-changing subject is difficult to handle.
How is the Myanmar lifestyle of old found in your book different than that of today?
Twenty years ago, people used to go about riding the bicycle. No one would have been in pants; they wore Myanmar nether-garments only. That piece of clothing is lovely; I like to wear it.
Now on Commonwealth Writers' Prize pre-sented to you. Why did you return it?
My Glass Palace is based on those waging a revolution against British Empire. There were many martyrs among them. I returned the prize because I felt accepting a writers' award given by England-led Commonwealth is an impro-priety to the characters in the book.
How did you study to be proficient in English?
My father worked in former Bangladesh so I knew no English at all until aged six. But Father had me educated in International School where the medium of teaching was English. I learned a lot through the spoken word and finally became proficient in the language. I continued my education in India to finally graduate from Oxford in England.
Why obtained a Doctorate in Social Anthro-pology
Incidentally, I should say. Anthropology was very interesting to people when I won a scholar-ship to Oxford. It reveals to us the singularities to be found in humankind. I went to a village in Egypt to research for the Doctorate, but firstly I had had to learn Arabic in Tunisia. Then I visited Libya, Morocco, and spent about three years for the research.
How many Languages do you know?
I have learnt Bengali, English, Hindi, French, and Arabic.
How do subjects you have learned contribute to writing?
I first came to Myanmar in 1996 as a journalist. The job was very helpful to writing. As a journalist I have been to Thai-Myanmar border, to Cambodia to cover its 1992-93 elections.
You have been to many countries. Which ones do you prefer?
I like to visit ASEAN countries, especially Myanmar, Thailand, Combodia, Malaysia and Indonesia. In Indonesia, I went to Island of Komodo in a rowboat to watch the giant reptile Komodo Dragon. I can row a boat to a certain extent.
Is travelling your hobby?
Exactly that.
Other hobbies . . .
Badminton. I play it fairly well.
Which country you would best like to visit?
None in particular. I try to find interesting things everywhere, Last year I got to go to Armenia which has deserts, rocky mountains and very ancient temples. They are a great beauty.
What is your outlook on print media?
A real challenge of big order to print-media people in US, India, everywhere. Digital media makes it possible for Journalism to make newscasts smoothly. That is good. But journalist people hardly earn a profit. Many newspapers have gone out of circulation. No-one seems to know how to solve this big problem.
Please comment on a writer you like best.
It is difficult to choose one only. For Myanmar, I hold Mya Than Tint in high regard. Among English-Language writers, I like Herman Melville, author of Moby Dick.
On your family also please. And expectation of your children . . .
My spouse is Deborah Baker, author of In Extremis: The life of Laura Riding. She is a senior editor at little, Brown and Company. My children are Lila and Nayan, both holding a job in New York City. I think we should not hold big expectation of children. They should find themselves a life of their labour of love.
What subject will your next book be about?
It will be based on climate change, but no title is chosen yet.
Great thanks for your time given to this interview.
Trans. by Khin Aung (English)