VINO DI ZANOTTI FOR FINE DINING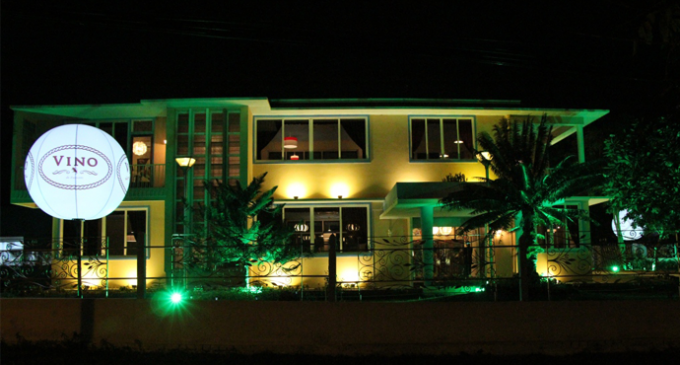 In fine dining, Vino Di Zanotti is known to be catering for Business Men with high-end hygiene, customer service, etc.
Location
No. 61, University Avenue Road, Bahan Tsp, Yangon. Ph 01-525935, 01-505247
Open Hours
6:00 PM-10:30 PM daily. Speciality: Dinner only.
Beginnings & Objective
Opened 28 March 2014. Vino means wine and Di Zanotti is restaurant's name. There are six namesake restaurants in Thailand. The objective is for Myanmar to become a provider of good food, to have variety, and fine dining for Business Men.
Ambience
The restaurant's design is based on Italian concept. Naturalness is let to reign in the interior, then is given an Italian bent.
Menu
Appetizers, Pastas, Risotto, Pizza, variety of spaghetti, BBQ seafood & meats, salads, soups, Italian cheeses selection, desserts, Italian wine, beverages, and cocktail. Italian foods are mainly available in this Italian restaurant.
Extraordinary
Bread made in Myanmar is better than that in Thailand because of its climate and the use of yeast to leaven dough. Pizza oven at the restaurant uses firewood, and hardwoods at that. So Vino customers coming from abroad claim Pizza and bread here are better. All meats except chicken are imported for use. To be true to its fine dining status, sauces and mayonnaise are not processed and packed products but are prepared in-house with raw materials bought from outside. With the help of Italian Chefs a taste all its own is being served.
Service
Customer Service is pinpointed to keep up fine dining.
Prices
Starting from 14 USD up to 41 USD at the maximum.
Major Guests
Foreign visitors, devoted customers of Italian food and those from upper class and Middle Class, ie Working class.
Hygiene in handling of food
To process meats and fish, only the required quantities for the day are produced and vacuum-packed. Then meats and fish are put in Fresh Freezer whereon they reach freezing point within 2-3 minutes (to prevent bacterial proliferation). Thereafter they are kept in an ordinary freezer. Such level of hygiene is at par with International Standard. Dishes and crockery are cleaned in Dish Washer.
Future Plan
Lunch is planned to be served. Catering service is also under consideration.