Myanmar Traditional Snacks Today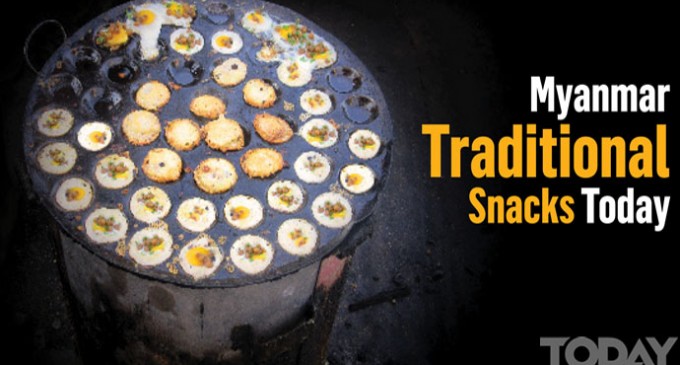 in Ma Yar is a kind of Burmese Street Food and so delicious. These delicious corner snacks are many common in Myanmar. Burmese street hawkers do not use recipe but know how thick or thin they need their mix, therefore it is difficult to give exact amounts and it is best to experiment a little to discover how you prefer to cook. These street chefs are true experts and very skilled in creating various lovely snacks.
Ingredients
Mix rice flour with water.
Pinch salt
Pinch MSG
Pinch sugar
A teaspoonful of baking soda
Chopped tips of green onions
Freshly pounded ginger, not too much
Method:
Mix rice flour, water, sugar, baking soda, salt, ginger and green onions. Test by putting a bit of mixture on the hot pan, while cooking to see if it is too soft, it has too much water, add some more rice powder it necessary. Leave the mixture covered for 1 to 2 hours. Heat the pan, add oil and add the mixture, add a quail egg or a couple boiled butter-beans (pe-pyote). When cooked, place one on top of another one and eat them as a pair.