Myanmar Food: Traditional and Change I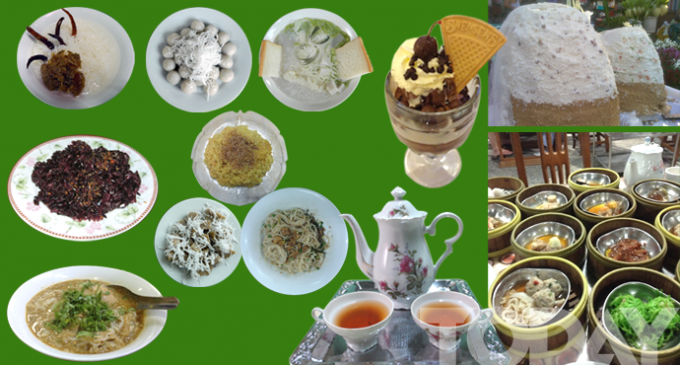 Introduction
 This article is a brief introduction to Myanmar food, its nature and characteristics. It gives an account of daily meals, eating out at cafes and restaurants, and about the culture and customs associated with food, social and religious. The focus is on the traditional aspects of Myanmar food and how it has slowly changed since mid – 19th century, accelerating in the last two decades of the 20th century. It ends with our thoughts on its future course as Myanmar opens up to assimilate international cultures, especially from her neighbouring countries of China and Thailand.
Background

Geographically Myanmar is wedged in between the two most populous countries of the world: China and India. Myanmar has the largest land area (261, 228 sq. miles, or 677,000 sq. km) of all the countries in mainland Southeast Asia, though the population at about 60 million2 is lower than that of Vietnam and Thailand.
From north to south Myanmar stretches 1275 miles (2052 km), from north latitude 9 degrees 32 minutes to 28 degrees 31 minutes, i.e. from temperate snow-clad mountains which form the southeastern foothills of the Tibetan Himalayas to the tropical forest covered coastal strip of Taninthayi (Tenasserim). This long latitude has given the people of Myanmar abundant vegetables and fruits from the apples, grapefruits and avocadoes of the north to the durians, mangosteens and rambutans of the south.
Myanmar is also fortunate in having a long coastal region stretching for 1385 miles from NaafRiver in the west to Kawthoung (VictoriaPoint) in the southeast, opposite the Thai town of Ranoung. This long seacoast has provided the people with bountiful fish and many other seafoods.
We have long land borders with China (1375 miles) and Thailand (1314 miles) but less with India (857 miles) and Bangaladesh (152 miles) and smallest with Laos (128 miles).
Our culture is strongly influenced by Theravada Buddhism which we received from India via Sri Lanka. About 89. 3 per cent of the population are Buddhists.
Racially and linguistically Myanmar belongs to the Tibeto – Burman group, but we also have the Shans, the next largest ethnic people who are akin to Tai, and the Mons who are related to the Khmers.
Myanmar has over 100 ethnic groups; same estimate it as about 135, with their unique cultures, customs and food. The major ethnic group, the Bama (Burmese) make up about 70 percent of the population, with ethnic groups comprising about 25 percent and foreign immigrants, especially Chinese and Indians, about 5 percent of the total.
All the main ethnic races of Myanmar, including the Bama, had their origins in the highlands of Central Asia in the China (Tibet) region and migrated southwards mainly through Yunnan over the last millenia; according to scholars the Bama came down from the highlands into the central plains of Myanmar settling down in the fertile valleys of the Ayeyarwady and the Sittaung Rivers from about the 7th century AD, merging with the earlier Pyu settlers who had built cities like Beikthano (Vishnu) city as early as the 2nd century BC.
Myanmar Food
Myanmar has a distinct food culture and tradition. There are some similarities with Chinese and Indian cuisine because as in all Asian food it is rice based. Spices and condiments are liberally used with vegetables and fruit, with fish predominant; traditionally less meat was consumed when compared to the diet of Europeans  and North Americans. There are Thai influences in some of the dishes, drinks and cakes with coconut milk, fish sauce (ngan-pya-yei or numb plah in Thai) and use of lemon-grass, glutinuous rice and semolina (as in sa-nywin-makin from Thai kanom mawgkaung).
From China, Myanmar got noodles especially the wheat flour noodles which are fried with meat and vegetables, or eaten with various types of soups. Also dumplings, sweet and sour dishes and barbecues like Beijing duck, suckling pig and so on.
From India we got many types of curries, both meat and vegetables, also barayani, or pilau rice which the Myanmar call dan-bauk (from Persian dumpukht), paratas, chapatis and nan bread.
From the Malays and Peranakans we received many kinds of satay barbecues, coconut milk with noodles, and various kinds of kueh, colourful sweet rice cakes.
When Myanmar became a colony of the British from the mid-19th century after losing three Anglo-Burmese Wars of 1824-26, 1852-53 and 1885, the British brought modernization and also English food; the Myanmar learnt to eat bread and butter, though few liked the cheeses, drink milk with tea and coffee and alcoholic drinks like beer, rum, whiskey and wines, though traditionally only fermented toddy juice and rice wine was taken in moderation.
Daily Meals
The Myanmar people get up early at dawn around 6 to 7 am and first have a breakfast. Traditionally they ate mohinga, a rice noodles dish, with the noodles slightly fermented and taken with ample fish soup cooked with onions and the pith of the banana plant.Sometimes we have for breakfast some glutinous rice, steamed as in kauk-hnyin-baung, or fried to a yellowish colour using some tumeric, called hsi-htamin, together with some shredded coconut, grilled dried fish or balachaung.
Tere is another breakfast snack made of steamed grounded rice mixed with jaggery palm sugar called mok-sein-baung made in two layers, brown larger layer with jaggery and a smaller white layer without. This is made in a big mound and sold early in markets by cutting off thin slices or chunks as much as the buyer may require.
Another breakfast dish which had come from India many years ago and is now a part of Myanmar food is the nan unleaven bread baked in thin slices in earthen ovens over hot charcoal fire. The crispy nan is eaten with boiled garden peas for breakfast.
From China has come also, many years ago, various types of dumplings or pou, which the Myanmar call pauk-si (from Chinese baozi), steamed balls of flour dough filled with pork or sweetened bean. Also various types of dim sum, comprising of small steamed pork, prawn or chicken bite-size morsels.
Lunch and Dinner
Lunch is around 11:30 am or noon and dinner between 6 and 7 pm. These two main meals are similar in that there is usually a meat and a vegetable curry, not as spicy as the Indian curries and a fish or prawn dish, together with some salads, fresh or boiled vegetables, or fruits like green mangoes on a plate in the middle, eaten with a dip or a relish, usually some kind of nga-pi-yei, a fish preserve, or shrimp paste. This middle dish is called to-sa-yar.
The Myanmar enjoy rich, oily curries called si-pyan-hin which is usually a meat or fish dish cooked with oil (sessamum or peanut) and water until the liquid evaporates and the oil "rises" to became a rich gravy mixed with condiments like onions, spices, etc.
Another oily, rich and "heavy" dish usually made from pork called wet-tha-hin-lay, has crossed the border to Northern Thailand. On visits to Chiang Mai we were treated to sumptuous hin-lay dishes. The Thai call it  by the same name, though there is no meaning in their language. In Myanmar hin-lay means a rich, fatty dish because the pork portion used normally have a lot of lard attached.
As the Myanmar eat all the dishes together with their rice, and not course by course as in the West, the soups and salads are also put on the table at the same time and can be enjoyed with the main dishes.
Soups are usually made of vegetables and certain (often sour) fruits and are of two main types, a clear (thin) or a thick one.
Clear soups are made with some fish and vegetables, e.g. sliced gourd with grilled fish, or red lentil soup with vermicelli.
Thick soups are those with prawns or fish and tamarind to make it a bit sour called by the Myanmar chin-yei hin cho. Some use roselle leaf which is also somewhat sour, with prawns, young bamboo shoots with fish stock.
The Myanmar also divide the soups into two main types, a hin-cho, which is sweet in taste and a hin-kha, which is supposed to be rather bitter, but actually not so much.
Apart from the traditional Myanmar soups we also have some from neighbouring countries. From China we received what the Myanmar called (12) ingredients soup which have at least (10) kinds of vegetables mixed with egg and prawns to make a delicious soup. Some add sweet smelling lemon-grass which the Thais like also, for flavour and some green chilli to make it hot. From the Thais we got in recent years different varieties of tom yam, hot and spicy, some with seafood which are getting very popular with the Myanmar.
Historians note that the British conquered Myanmar with Indian troops. Through British India we received several types of Indian and Anglo-Indian dishes and soups. A popular spicy soup which the British introduced to Myanmars is the maloke-katani soup made with peas, tamarind and masala which will sharpen your appetite for the main dishes. The name comes from the Tamil word for this soup milagu-tannir which the Anglo-Indians corrupted to mulli-gatawny.
Desserts
Fruits in season like water melon, mangoes, pineapples, guavas and so on are taken as a dessert. Also popular is pickled tea leaves mixed with small dried prawns, fried peas, roasted sesame, fried garlic and sliced tomatoes has been eaten not only as a dessert but at tea time or offered to visitors with plain tea. In the old days plain tea was the favourite drink at all times and we must have received it from China from time immemorial. Tea shops, cafes and restaurants would offer it free without any extra charge in a pot with small cups on the table and customers can take as many helpings as they liked and can also ask the pot to be refilled without charge. From India we received faluda, a kind of sundae, sometimes served with ice-cream; the sweet milk drink has layers of egg pudding, rose pink sago pearls, green threads of cendol and glossy cakes of agar agar jelly. The Myanmar enjoy it as a dessert.
Tea Time
The Myanmar have a tea break around 3pm to 3:30pm. They used to drink plain tea without milk and sugar before the British came. But later many in the towns learnt to drink a rich, thick tea brew with sweetened condensed milk. This is popularly served at the many tea shops with the plain tea given free in tiny cups.
With tea or coffee at tea time the Myanmar like to take a snack, which could be pickled tea leaves or sliced ginger salad, or one of the many varieties of rice cakes. They also like fried stuff, made from fruits and vegetables like fried gourd, onions, peas and beans.
But the Myanmar never adopted the high tea custom of the British and seldom eat meat pies, though occassionally they buy and consume some cakes and curry puffs or patties introduced by the English and Anglo-Indians.
Apart from tea and coffee European style, the Myanmar had their own tea-time drinks like shwe-yin-aye, a tasty concortion of sago, coconut cream, jelly strip and bread; the name means a "golden heart cooler" and it is served free to everyone at Thingyan (Myanmar New Year) to revellers during the oppressive, humid heat of mid-April. Another drink popular with Thingyan revellers is mok-lon-yei-baw, small round dumpling-like balls of glutinous rice boiled until the rice balls float up; they have a lump of jaggery palm sugar in the middle of the rice balls. Sometimes to make fun at Thingyan, instead of the sweet jaggery, a few are made with very hot green chillies which shocks the unsuspecting person who ate it.
From Thailand we have received several drinks and snacks. One snack is called kha non htoke (shrimp parcels), which used to be popular in the MandalayRoyalPalace at tea time or supper. It is fried with shrimp or chicken meat packed inside rice flour mixed with eggs. The parcel crepes are delicious.
Another drink from Thailand is mok-let-saung, green coloured rice jelly strips served with cooled coconut milk mixed with jaggery or sugar. The Myanmar name comes from the Thai laut chaung, mok being the Myanmar generic word for any cake or snack.
To be continued…
  Dr. Thaw Kaung with the assistance of Dr. May Moe Nwe