The Beer Factory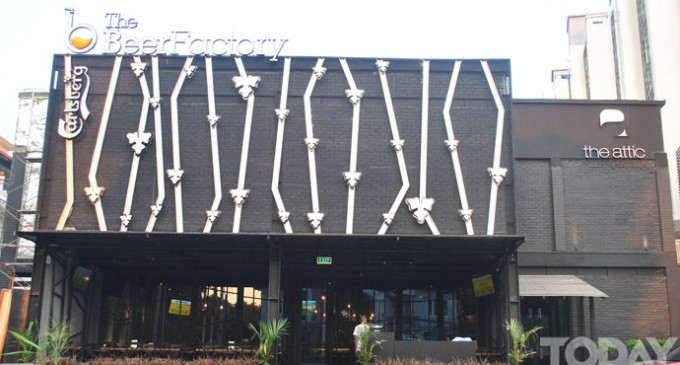 The Beer Factory + The Attic, Malaysia's top Bar and Party Place concept, now in Yangon. So TODAY set down with Johnathan Lim, Executive Director, who is taking care of the bar to get the concept behind it.
When and how it's started…
First outlet of The beer Factory Malaysia was opened on May 2010, starting from it currently total 9 outlets in Malaysia and growing. They sold 9850HL beer last year which equal to serving 4 pints of beer every minute and the group sold 2.5 mil litter of beer. As for Myanmar, we has recently started their first outlet in April and has plans to do a grand opening in May 2017.
Why so special about the expereicnes, the décor …
The Beer Factory offers a nightlife experience unlike any other. The amazingly designed industrial-factory themed bar, along great drinks and high quality service, is the perfect place for a get together. Or get your high energy party experience fix by heading to The Attic, where cutting edge electric neon visual effects merge with heart thumping electro beats to produce a party experience like no other.
The menu, the staffs and the price
We offer Affordable drinks and Food. Staff are train for causal dining and also to have fun. We also brought home 3 of our loyal staffs back to the arms of their families. They left the comfort of their home to go all the way to Malaysia to find a living so they can send money back home. Mona and Thet have not been home for over 7 years! And they kept their return a surprise for their family and it was one amazing reunion filled with tears of joy. Zaw got reunited with his wife in time to witness the birth of their second daughter, and to be able to hold his new born in his arms, was truly a priceless moment. All 3 will be taking up senior positions in The Beer Factory Yangon and will play a vital role in spearheading our expansion plans in Myanmar.
Who should come visit to the bar?
We welcome everybody, as the name beer Factory itself may sound like a place for drinks only, we actually heavily focuses on our kitchen as well. We believes that having good food plays a big roles in the success of a F & B outlet.
What will be the uniqueness of the bar
Fun environment to drink. The uniqueness of the bar is going to be very hard to be described in words, as you will need to come and experience them for yourself. And what so especial about Beer Factory is that we ensure happiness among staffs. We strongly believe that customers' satisfaction and happiness is correlated to our staffs' happiness. Therefore, if our staffs are happy, they can definitely keep our customers happy.