Prestige Automobiles opens first BMW sales & service facility in Myanmar.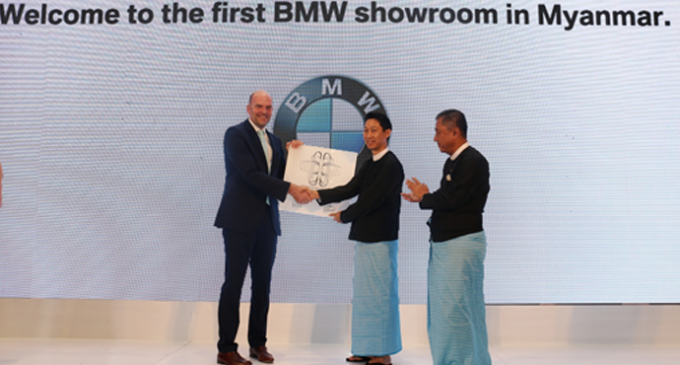 Prestige Automobiles, the authorised BMW importer in Myanmar, opened its first BMW sales & service facility in Yangon on November 15, 2014. Located at No. 485, Corner of Pyay Road and Narnattaw Street, Kamayut Township, the three-storey BMW facility occupies a total building area of more than 6,000 sqm. The new facility comprises a display area that can hold up to eight BMW vehicles, along with a customer lounge area on the first floor. The second floor houses the sales office and meeting rooms, while the service centre is located on the third floor with four working bays that can service up to more than 200 cars per month. The aftersales facility also comes with body and paint repair services that can handle not only cosmetic repairs but also structural repairs of damaged vehicles. The facility has more than 80 visitor parking lots located both indoors and outdoors.
"It is truly an honour to represent the world's leading premium car brand in Myanmar. Our showroom facility, which took nine months to complete, is currently the most advanced car showroom and service centre in Myanmar. Apart from offering a comfortable showroom environment for our customers to view our cars, we have state-of-the-art servicing equipment and facilities. For instance, our car body repair tools are able to handle not only surface repairs, but structural repairs of damaged vehicles as well. We look forward to providing our local customers with exciting new BMW models as well as the best possible customer service from our staff," said Mr. Chan Mya, Managing Director of Prestige Automobiles.
"BMW Asia is delighted to deliver Sheer Driving Pleasure to Myanmar. The move is part of our strategy to expand our reach to more customers in this part of the world, and to provide local customers with the BMW products that best cater to their needs. With the experience and expertise of the Prestige Automobiles team, we are confident that they are the best candidate to represent BMW in Myanmar," said Mr. Ramesh Divyanathan, Director of Sales Channel Development and Customer Relations of BMW Group Asia.
Prestige Automobiles will carry the full range of BMW models, including the new BMW X4, which made its debut in Myanmar on November 15. Other models available at the showroom includes BMW 3 Series, BMW 5 Series, BMW 6 Gran Coupe, BMW 7 Series, BMW X1, BMW X3, BMW X4 and BMW X5.