Ooredoo Myanmar Hosts Important U.S.Partnership Opportunity Delegation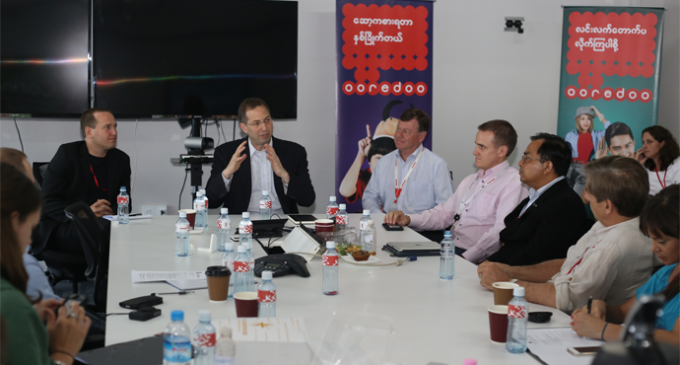 Partnership Opportunity Delegation led by The Aspen Institute, the Richardson Center for Global Engagement and U.S. Department of State
Yangon,Myanmar
 Senior Executives of Ooredoo Myanmar, including CEO Ross Cormack, hosted an important visit from U.S. delegates at Ooredoo's MICT Park offices last week. Participants included social entrepreneurs, investors, philanthropists and officials from the US Department of State.  The delegation was coordinated by the  Aspen Institute, The Richardson Center for Global Engagement, andU.S. Department of State.
Discussions focused on economic and social opportunities offered by the suspension of many U.S sanctions on trade and investment in Myanmar. President TheinSein's steadfast commitment to a transition towards democracy was heralded as a major catalyst for change.
Opportunities for growth and development within traditional, small-scale agriculture and labour intensive businesses of a similar size were discussed at length.
During the discussion, the delegation and attendees covered the effect of the suspension of many U.S. sanctions on trade and investment in Myanmar, the Myanmar government  commitment to a transition toward democracy, investment in citizen-friendly efforts such as small-scale farming and other labour-intensive businesses.
Whilst Myanmar lacks the investment and entrepreneurial ecosystems present in other regions in Southeast Asia, the country is brimming with talented human capital, an abundance of natural and agricultural resources, and the political and cultural will to make significant economic strides.
"Ooredoo Myanmar is delighted to host such a committed and high profile delegation," commented Ross Cormack. 'We firmly believe that the roll-out of our next generation 3G network will encourage, support and enable a dramatic change in foreign direct investment in Myanmar."