Myanmar Young Entrepreneurs Festival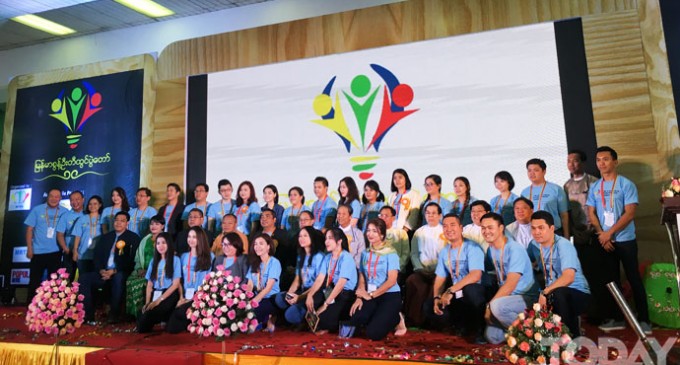 The first Myanmar Young Entrepreneurs Festival was held at the Tatmadaw Hall, U Wisara Road, Yangon for 3 days from 16 to 16 June, 2017. The well-attended event was opened by Union Minister for Planning and Finance U Kyaw Win, Myanmar Trade and Industry Federation Chairman U Zaw Min Win and Myanmar Young Entrepreneurs Association Chairman U Htun Htun Naing.
The Purpose of the meeting is to create a market and capital network, a good economic environment, and by encouraging Myanmar young entrpreneurs, to contribute to Myanmar's socioeconomic growth based on technology in the manufacturing and service sectors.
The event featured a total of over 120 showrooms. There were an exchange of ideas, lectures and free training. Among the showrooms were those of the startup businesses and also of the SMEs.
There were rooms for Virtual Reality Games. An Entrepreneurs Networking party was held on the final day of the event. The followings are the brief introductions of the start-ups.
Ma May Mon Thu
Managing Director
Mamper Co.Ltd
Ours is an agency for 360 Degree Branding Solutions. We provide all the necessary services, inclucding logo designing, for those starting up a company or just re-branding. We give them advice on logo design depending on their particular business models and we also do designing for them. If they wish to give away their products as gifts as part of marketing or branding, we draw designs for their good-quantity products.
U Aung Hein
Managing Director
MOSD Co.Ltd
We started with the idea of familiarizing children with dolls of Myanmar culture that serve as learning aids for them. Our toy Box Myanmar contains a collection of Myanmar traditional toys. Our suppliers are those people who have been doing the Myanmar traditional toy business. We promote the sale of these toys through the social media. Our aim is to re-introduce Myanmar cultural toys to present-day Myanmar children who have been out of touch with them for quite some time.
Ms Deborah Kitto
Pomelo
I started Pomelo over 5 years ago. We're a retailer of over one thousand varieties of handmade products, those things made by physically and visually handicapped children and street children-things such as keepsakes, bags, household things etc. Our volunteers teach how to make them in unique designs.
Ko Aung Myat Thu
Founder
Gambit Co. Ltd.
Young people these days have no outlet for expressing their ideas and thoughts. They only spend their time by abusing drugs, lazing at teashops, a video game shops. The aims of our workshop is for young people to learn arts and crafts that we teach them there at the Workshop. We teach them Anime, Homemade Scrub and Mask, Paper Quilling which is the art of creating beautiful designs with strips of paper, Miniatures and Charms, Doll House Making, Fashion illustration and Rubber stamp Making. We've planned for pottery class, Calligraphy, as well as Spoon Painting and Sand Arts to be taught by a Cambodian teacher.
Daw Min Min Myat
Founder
YK Collections Myanmar
I've been doing the handicraft business since 2010. In 2014 I put my creations in for the Good Design Award, with the help. I made them with the Reusable concept. I created using Gypsum Stone and Marble Craft. I was one of the four award winners out of a total of eighteen contestants from Myanmar. These days young people do now know about palm-leaf manuscripts. In our younger days we each had a horoscope on palm leaf. Our aim is to quaint them with palm-leaf manuscript. It is our innovation idea. We provide customers with the service of writing on the palm leafs whatever they wish to say.
Another thing is we have a different way of packaging. We put tea not in the conventional package but in a small wooden box. Foreigners like it very much, When the tea is used up you have an empty box that you can use in anyway you like. It's convenient to use. We have a plan for packaging in recyclable bags. We also have on display accessories, made with tiny dry red seeds. Our aim is to enable people how these seeds can be made into pieces of jewerlry by making a hole into them.