Myanmar Flower Culture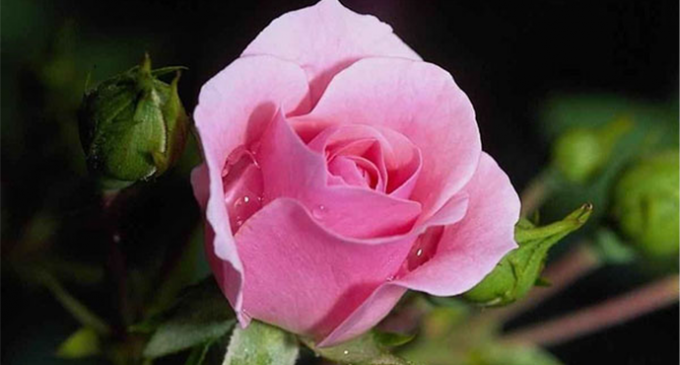 Just as Myanmar can be called the land of pagodas because of the abundance of religious edifices all over the country, it can also be called the land of flowers because of the countless varieties of flowers found all over Myanmar due to the varied terrain, rich soil, substantial water resources and favorable climatic conditions. Whole trees and shrubs such as the golden padauk (Pterocarpus macrocarpus), the scarlet sein pan (flame of the forest), the yellow ngu (Indian laburnum) (Cassia fistula), the violet pyinma (Laerstroemia speciosa), mul-tihued saku pan (bougainvillea) are cloaked in blossoms in April and May, the hottest months of the year, creating a palette of the richest hues. Among them the golden padauk (gum-kin) (Pterocarpus macrocarpus) which blooms just once a year in April and heralds the Myanmar New Year is regarded as the national flower and as having good omen.
Each state and region is famed for certain types of flowers. For instance, Chin State located at an average elevation of between 1500 and 2700 meters is famed for its taung zalat (rhododendron), Kachin State in the north of Myanmar is well known for its wild orchids. Shan State in eastern Myanmar is famous for its large variety of lilies and chrysa-nthemums, Rakhine State in western Myanmar is renowned for its fragrant delicate looking thazin flowers (Bulbophyllum auricomum), a species of orchid, and Mandalay region in central Myanmar is well known for its sweet-scented tamar (neem) (Zadirachta indica) flowers and one could go on and on. There are distinct flowers not only ascribed to a region but also ascribed to each of the 12 months of the Myanmar year by poets of yore testifying to the fondness of the Myanmar people for flowers since ancient times. For instance, gantgaw (iron wood) (Mesua ferrea) and padauk (Pterocarpus macrocarpus) are ascribed as the flowers of the Myanmar month of Tagu (March-April), sagar (Michelia chan-paca) for the Myanmar month of Kasone (April-May), and myat lay (Jasminum gradi-florum) and sabai (jasmine) (Jasminum) for the Myanmar month of Nayone (May-June).
The importance given to flowers in the daily life of Myanmar people can be seen by the cultivation of flowering plants and trees on whatever space is available and by the large number of flower stalls in markets of all sizes, both in the cities as well as in the countryside. Flowers such as adorable roses, colourful gladiolas, humble asters, magnificent chrysan-themums, dainty carnations, regal lilies, sweet-scented strands of jasmine and scented shwe pan (yellow ginger lily) (Hedychium coronarum) and ngwe pan (Hedychium spicatum) all vie for the attention of buyers. Why do flowers receive so much attention from the Myanmar people? The importance given to flowers is due to the multifaceted role they play in Myanmar society.
Foremost among their roles is, serving as offer-ing in paying homage to the Lord Buddha. Fragrant and beautiful blossoms of different hues and varieties and leaves and small sprigs of certain plants and trees such as thabyay (eugenia), ohn (coconut palm), gantgaw (iron wood) (Mesua ferra) and ywet hla (croton) are offered to the Lord Buddha either at the shrine kept in the homes of all Myanmar Buddhists or at pagodas and monasteries. In the countryside, there is also the tradition of groups of young people plucking flowers from their gardens and from nearby hills and dales on the eve of the full moon day of the Myanmar month of Waso (June-July) which takes place round about the second week of July, so that they can offer the flowers at monasteries and pagodas the next day. The full moon of Waso marks Dhamma Sekya day, the anniversary of the Buddha's first sermon on the Four Noble Truths and it also serves as the beginning of the Buddhist lent.
The flowers that are offered daily by devotees at some of the bigger pagodas form huge mounds when collected in the evening by cleaners and volunteers. The heap of flowers are dried, made into powder, mixed with thit say (oleo-resin) obtained from the lacquer tree (Melanorrhoea usitata), molded into Buddha statues called assorted flower Buddha images, gilded with gold leaves and then are sold or given to people living in remote areas.
There are eight corners with their respective planetary posts around the main edifice at pagodas and they represent the seven days of the week. The eighth corner is for the planet rahu as Wednesday is divided into two parts- one from midnight to noon and the other from noon to midnight and it is named rahu. Flowers together with leaves of certain plants and trees, fruits and paper festoons are prof-fered at the corners to placate or dispel the bad influences of planets in times of misfortune. Flowers denoting each of the days of the week, of specific colours, and numbers related to their years of influence of the planets are offered to the Buddha at the corners concerned. Accord-ing to one Myanmar astrologer, 6 sprigs of coconut flowers are offered at the Sunday corner, 15 chrysanthemums are offered at the Monday corner, 8 flowers of flame of the forest at the Tuesday corner and 17 shwe ban (yellow ginger lily) (Hedychium coronarum) or strands of shwe ban are offered to the Wednesday corner, 10 red roses are offered at Saturday corner, 19 white asters are offered at the Thursday corner, 12 shwe ban (yellow ginger lily) (Hedy-chium coronarum), or strands of shwe ban at the rahu corner (post noon Wed-nesday) and 21 gladiola are offered at the Friday corner or flowers of the same number as one's age may be offered at the respective corner. Among the many flowers offered to the Lord Buddha, kyar (lotus) has a special significance in Myanmar Buddhist culture. The lotus is associated with beauty, purity, perfection, pro-pagation and prosperity and the Buddha is often depicted sitting on a lotus with the top row of petals upturned and the bottom row converted. Some parts of the pinnacle of a pagoda are also named after the lotus. Since ancient times, the lotus, has also been the most popular floral motif in wood carvings and decorations of buildings in Myanmar such as pagodas, mona-steries and palaces.
There are 37 inner nats (spirits) and 37 outer nats (spirits) that have been worshipped by some Myanmar households since ancient times. Which nat or nats a family worships, is determined by the place of origin of the family of the head of the household, who is usually the husband, or is dependent on the belief that a certain nat brings good luck to the family if propitiated. Sweet smelling flowers such as red roses, jasmine, shwe ban and ngwe ban are offered to the nats at the shrine kept at home and fragrant flowers are an integral part of the offerings in ceremonies to propitiate the nats.
Many vehicles, especially those involv-ed in public transportation, have photographs of Buddha images pasted on the wind screen or attached to the rear view mirror as protection from accidents or to bring good luck and strands of jasmine, shwe ban (yellow ginger lily) (He-dychium coronarum) and ngwe ban (Hedy-chium spicatum) are attached to the rear view mirror as floral offerings to the Buddha. In Yangon, due to this practice of motorists, areas near traffic lights have become favourite spots for flower vendors.
Myanmar women like to decorate themselves from the tip of their heads to their toes and are fond of adorning their hair with flowers, especially when attending ceremon-ies. These are usually dainty, fragrant, beautiful flowers, such as roses, sprays of gantgaw, padauk, orchids, and strands of jasmine and khayay (star) flowers. The favourite flower of Myanmar brides to wear in their hair, especially those brides dressed in Myanmar traditional formal style, is the graceful, scented, slightly creamy coloured thazin flower (Bulbophyllum auricomum).
As in other cultures, flowers also serve as a symbol of courting, romance and love. In the past, when Myanmar women were coyer about matters of love, if a girl accepts the flower given by a boy and she wears it in her hair, it indirectly indicates that she accepts his love. There is also a traditional belief that a maiden is parted from her first love, if she wears crimson flowers. There are also flowers which women avoid wearing due to their negative associations. There are stories that at one time, corpses adorned with hibiscus flowers in their hair could get to the cemetery by themselves. A variety of marigold is also avoided because it is used in Indian funerals. Women do not wear the green variety of sagar (Michelia chanpaca) flowers in their hair due to the association of the sagar tree with the death of the 4th century AD blacksmith Maung Tint De who died a violent death at the hands of the king of Tagaung. The king feared Maung Tint De for his great strength. After his capture, Maung Tint De was tied to a huge sagar tree and burnt alive. Following his violent demise, Maung Tin De became a nat (spirit) and he is still worshipped by many who regard him as the guardian spirit of their homes and family.
Flowers are also playing an increasing role in Myanmar ceremonies- religious occa-sions, weddings, meetings, inaugurations and funerals. Although Myanmar people love flowers, one cannot detect a distinct style of flower arrangements. This is because in Myanmar, flowers are used mostly to be offered at alters and hence beauty and fragrance of individual flowers are given priority over style of arran-gement. However, this lack is being redressed by the numerous classes on flower arrangement for those who want to master this art.
Flowers are generally associated with worship and beautification in Myanmar. But they also play other roles in Myanmar society. They serve as a source of food and ingredients for indigenous medicine. There are flowers of the ginger species which are eaten raw, or boiled, with a fermented fish dip called ngapi. There are also flowers of trees and plants such as pauk (Butea monosperma), pauk pan phyu (Sesbania grandiflora), gourd, pumpkin, banana, and onion, etc. which make tasty dishes when stir-fried with fresh or dried prawn. Flowers of mezali (Cassia siamea), papaya, frangi pani and flame of the forest are dipped in boiling water and then made into delicious salads by adding a dash of lime juice, shredded onion, pounded dried prawn and oil in which garlic or onion has been fried. The banana bud can also be fried or made into a salad. Padatsar flowers are also used to make a tasty spicy soup. In Myanmar culture, some flowers are also regarded as having healing properties. Flowers individually or together with other ingredients are used for a variety of diseases. Wut Yee Swe et al of the Department of Traditional Medicine of the Ministry of Health in their paper Utilization of seasonal flowers in common health problems presented the many uses of Myanmar flowers for medicinal purpose. For instance, the stamen and flower of gantgaw (Mesua ferrea) can be used to relief insomnia, thirst, urinary disorders, vomiting, bilious diseases, diarrhea and dysen-tery. The sagar flower (Michelia chanpaca) is used as an aphrodisiac, and it relieves itching, ulcers and bilious diseases. Myat lay flowers with the botanical name of Jasminum gradi-florum can also be used as an aphrodisiac, and is said to relieve diarrhea, fevers, dizziness, heart burn, eye disorders and bilious diseases. Kyar (lotus) is said to cure dysentery, haemate-mesis, thirstiness, heart diseases, eye-diseases, fatigue, insomnia and diarrhea. The stamens of the gantgaw flowers are added when grinding the bark or root of the thanakha (Limonia acidi-ssima) tree to get a paste which is used as an effective sun block as well as to enhance the complexion. Star flowers and stamen of the gantgaw flowers are also sometimes added to the thanakha paste to enhance the fragrance and medicinal properties. Coconut oil is used as a hair tonic in Myanmar and jasmine flowers are added to the coconut oil for its scent as well as for its medicinal value.
In addition, there are also the more utilitarian uses of flowers. For example, in Shan state in North Eastern Myanmar, flowers such as bougainvillea are used to decorate traditional handmade Shan paper made of mulberry bark. Flowers may also serve as food colourings such as the violet coloured flowers of kauk lan ti (Aeginetia indica) found in paddy fields are used to give a violet colour and fragrance to a kind of snack made of steamed rice wrapped in salu (Licuala spinosa) leaves. Flowers are also a rich source of natural dyes and the lotus flower is used in the Inlay area of Shan state to dye textiles made of lotus stem.
Myanmar's climatic advantage, rich water and land resources, fertile soil, love of flowers by its people, abundance of flora species and the influx of new species from neighbouring countries and beyond, are features that ensure that with greater effort, Myanmar may well become the Flora Land of Southeast Asia and join the ranks of flower exporting countries in the region one day.
By Myo Myint