Mr Calvin Pun Branding Director , Beyond Scaling Up New Business Operations Manager, First Ocean Breeze Co Ltd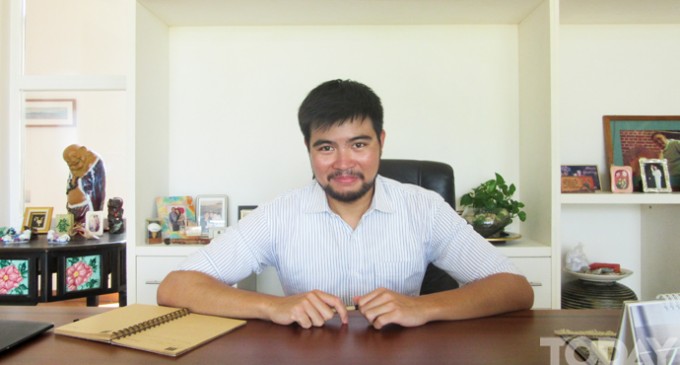 Brief introduction to Beyond
Beyond is a branding and marketing company formed in 2016 by my father, Mr. Martin Pun and myself. Together we formed this company to help small and medium enterprises scale up their businesses. The name Beyond fit the need for SME's to grow. One of the most important things when you scale up is their business is your branding. So what we give Branding is not only marketing, branding, advertising, branding logo, it is also for internal branding. Corporate culture is something that we believe is important for the success of a company. The reason and concept behind Beyond is to assist SMEs to grow and find investors and new partners.
Educational background and workexperiences
I studied in the United States for five years in two different schools. One is Hendrix College and another one is Northern Virginia Community College. I got my international relations degree in 2014 and then I moved back to Myanmar. This degree has very little to do with business, but I felt that after my return to Myanmar and it helped me understand political and business situations and analyze them much more easily and logically. That is why I want to learn my major and it is very interesting.
On the social front, when the storm hit Rakhine State in 2015, I was a team leader of SPA Flood Relief Fund from August to October 2015 I provided relief goods and clean water filters for affected villages with a total population of over 30,000. I was also selected to be.a sales associate in KrisPlaza in Nay Pyi Taw.


So how many clients do you have now and what are your services to them?
Good branding programs start with knowing your strengths. "What are you really good at? And how can you make the available strength valuable to themselves and investors.
We are asked to keep our clients' names confidential. Some examples of services I have provided in the past 2 years are:
•    Assist to form and lead its marketing team, update its marketing techniques by creating social media presence – Facebook, Instagram, , new website, and redesigning marketing materials, assist in creating targeting marketing campaigns, increased sales, explored oppor-tunities to expand services by reviewing finan-cial and operational needs and market oppor-tunities. Door to door services and travel international exhibition to research and source new equipment to reduce cost.
•    Creating marketing campaigns and materials. How to initiate a new brand design corporate logo & profile, organize the different shows, for example, in the Myan Hotel Exhibit, we have organized the booths, designs, set up.
•    Restructure and consolidate the organization, liaised with international designers on rebranding the company with new logos for their group of companies, company profile, made recommen-dations on personnel requirements and training, upscale marketing team's capabilities, SWOT analysis training.
And how about your role and responsibility in First Ocean Breeze?
I've been New Business Operations Manager in First Ocean Breeze since 2014. My responsibility is overseeing the inspection of all potential ventures of the company by reviewing market potential, operational requirements and financial needs. Establishing and building all businesses by managing teams, instituting Standard Operating Procedures and creating corporate culture based on a good governance and social responsibility. But I focus more on Beyond. First Ocean Breeze is a family owned company that allows me to practice my knowledge and gain experience. Using this experience I can better serve my Beyond clients, as I do not use my clients organizations as "practice", which would be bad business ethics.
Challenges of doing business in Myanmar…
There are many challenges. But I think the most important challenge is that Myanmar hasn't undergone Industrial Revolution that other countries have. Our economy is still agriculture- based and I think Myanmar can grow stronger with more financial capabilities, population with industrial abilities. For economy to be stronger and also for the resources that we have to be better used. For example, we have so many agricultural goods, before we export to China or India or Thailand, just a raw products. So if we have industry to preserve or process food, for example, strawberries from May Myo or TaungGyi can make jam. All of the products Myanmar have, instead of selling the raw materials, we can create more value. Myanmar has a variety of raw materials, we don't know how to convert and add values.
The goal of your company in the future…
Our goal is to support vision's like City Mart's group of companies "Pride of Myanmar" and assist companies to be part of movements like this. What we would like to help include some  level of social enterprise model into these products. Eco-tourism is a good example.  Value adding to agricultural products is a good sustainable directive. Our main purpose is to see our SMEs grow, increase employment, retain employees and become leaders in their own industry. We like to advise our clients to do what they do best and try not to do too many things since its difficult to do many different things well if you are an SME.
Your future plan…
I want to have a a team of good people to manage our family business, and assist other SMEs to be sustainable companies. I work with my father everyday so I hope that one day he will not need to come to the office.  It is time for him to play more golf and have fun.