Local, Bronze age, Iron age and Dr.Thomas Oliver Pryce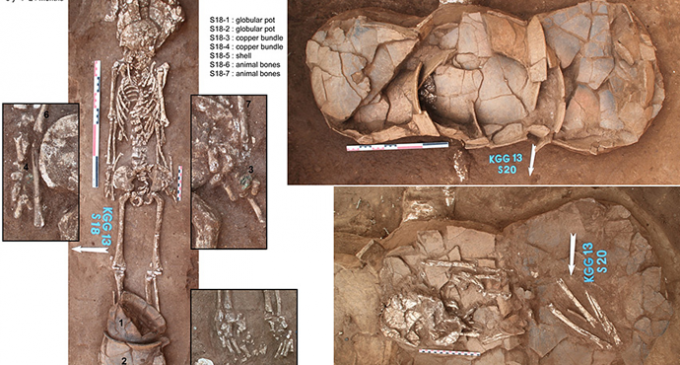 French archaeologist Dr.Thomas Oliver Pryce is doing excavations and research since 2001 at Nyaungkan and Oak-aing villages, Budalin Township, Monywa District, Sagaing Region. His experiences and initial findings together with Myanmar researchers on prehistoric fossils and allied objects were presented at the French Cultural Institute as follows.
Archaeological activities carried out in Southeast Asia
Dr. Thomas was a senior researcher at Vitentiane-based Research Development Institute, working at Bronze. Age settlement sites in Luang Namtha province, northern Laos. A permanent researcher from 2013 onwards at France's National Science and Technology Institute, he has been doing research and Lecturing on the late prehistoric Southeast Asia at UMR 7055 Prehistory and Tech- nolog, of University of Paris West, La Defense.
In 2013 he arrived in Myanmar as leader of Myanmar – France Archaeological Mission, to work jointly with U Aung Aung Kyaw in excavating on ancient burial ground of Iron Age, 50.6 km to the west of Kangyi -gone (basin of Samone River) (Pryce,et al., 2013). Fifty-three burials (Adult 22, Middle-aged 16 and Unidentifiable 15) were unearthed and found to have used the custom of burial in a coffin or a funerary urn. The potsherds discovered are Trilogy shaped, and similar to those found in Samone Basin. A small piece of charcoal, recovered through bweket floatation method, has been dated at 500-200 BC. The skeleton of a nursing infant is dated at 1000-840 BC, as belonging to Bronze Age.
To ascertain initial findings research work was carried out in January 2014 at an ancient burial ground 2.5 km to the South-west of Nyaungkan area. This activity extendscompletion to Returning to the Bronze Age, whose study was first begun in 1990.
In 2016 Dr. Thomas Oliver Pryce together with joint team leader Daw Tin Tin Win returned to Nyaungkan village in Budalin, to dig three test pits and recover seven human burials. Reckonings from this activity throughradiocarbon dating should confirm Naungkan as a Bronze Age community area, it is learnt. Moreover Dr. Thomas and party dug three places full of ancient potsherds and broken pieces of stone, lying to the south of Oak-aing village. Coming to light from the excavation are ancient house-post marks in the ground, the practice of burying newborn dead in the ground, the practice of burying newborn dead in funerary urns underneath the house floor, big quantities of potsherds, flat rings of stone especially at cemeteries, and waste pieces of stone coming out of bead production. The human settlement and time of manufacturing are to be dated, initially, at earlier or later 2000 BC and so one of the largest Bronze Age settlements in Southeast Asia.
What difficulties were you faced with at the time of research?
There were none though I do not speak Myanmar language, thanks to the cooperation of Archaeological Department personnel in Mandalay and the villagers concerned.
How are your findings to be processed with the cooperation of Ministry of Culture?
Some results coming from our archaeological research shall be taken abroad for scientific testing. The French team reports to Ministry of Foreign Affairs and Myanmar team to Ministry of Culture. The results are organized and written as Articles to be posted online and published in academic journals.
Websites..
There is a website called MAFM where Articles are posted as Biography. Content in PDF Files can be downloaded. There is still difficulty in getting a Myanmar Language version. It should be realized later on with cooperation of Myanmar students.
Research Programme for the future
Programme of the next phase has been submitted to Ministry of Culture. Next year the researchers will be studying the Pyu of Halin ancient city. How they lived and worked. As for Bronze Age culture in Myanmar three excavations each have been carried out near Nyaungkan and Oak-aing villages, for a total of six. The French scholar made a presentation on the results – crockery pieces found together with the skeletons, beads, flat rings of stone, rock samples and stone implements. This region of Bronze Age culture, submerged under farmland, is one of the largest in South-east Asia, the age of which remains to be determined scientifically yet.