Lahu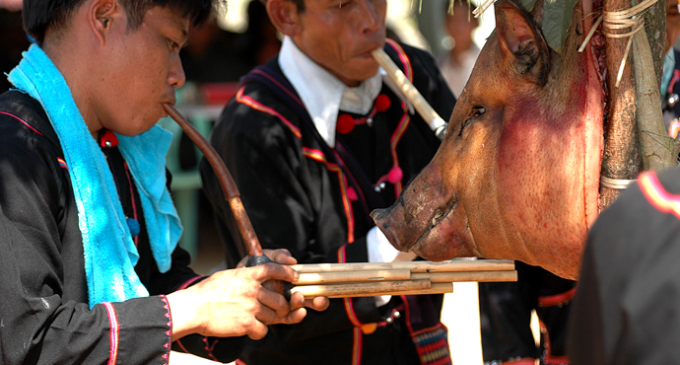 At the time of migrating three groups, Mon-Bhamar group, Tibe to Burman, and Sino-Thai from Mongol Highland into Myanmar, tribe reaching at shan state were Wa and Palaung from Mon-Bhanar group, Kachin, Myanmar, Lahu and Kaw (Ahkhar) from Tibet-to-Burman and Shan, Shanchinese and Kokant from Sino-Thai group. Lahu tribe are living at Maington, Maingsat, Maingppugyi, Maingpin, Maingpe, Maingpauk, Maingkar, Maingngone, Maingyam, Mainglon and Mainglin in Eastern Shan, but in Northern Shan the resided at Theinni, near around Lashio, Kokanl region and some Wa region.
Lahu tribes also have different Lahus. They were calling Lahu-Shi which was Lahuwar, calling Lahu-Na which was Lahu-Ni respec-tively and their clothing style and traditions were distinct a little too.
In regard to religion belief of Lahu tribe, it has three kinds: Nat devotees, Christians, and Mahayana like Buddhism. Due to the Christian Mission Coming in, Christians were more and more and chapels could be seen at every village.
Lahu traditional attires were varied. Gene-rally, multi-red colored designs were created on the shirts based on the black cloth. Lahu men are holding bags, swords, pipe, crossbows , and gunpowder flinted gun while women are used to wear earring, necklace, and bracelet based on the silverware.
U Hla Myint Swe