Ko Sai Aung Kyaw Saimon Director (Myanmar Golden Produce Co. Ltd)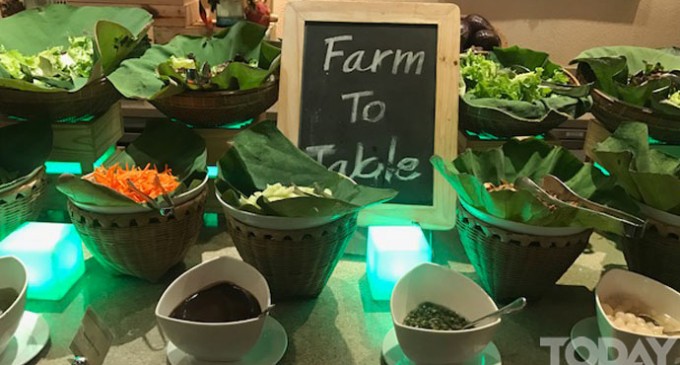 What causes you to start Go Green?
The main objective of this company is to improve food safety of Myanmar. Regarding food safety, when studying the section of crop plantation, Myanmar is found using a lot of chemicals. Because there are very few chemical-free crops, it is intended to produce chemical-free organic vegetables in Myanmar.
Ko Sai Aung Kyaw Saimon, General Manger and Director of Myanmar Golden Produce Co. Ltd, was interviewed at the "Farm Fresh Week" promotion, co-organized by Sule Cafe and Myanmar Golden Produce Co.Ltd (Go Green) at Sule Cafe, Sule Shangri-La Hotel in Yangon from 27 March to 1 April, 2017
Where have they now been distributed?
From March, fruits are exported consecutively to Singapore. But those fruits are not organic. To meet the market demand, fruits from here are exported. Those on in local sale market are organic vegetables. There is only one shop at present. Sule Cafe is our very first partner which uses our organic vegetables.
How will you expand the business later?
We will open branches. Concerning foreign imports, we are going to import more than this. Now, we can import only half a ton. Despite the market demand, we can import half a ton per day as we aren't ready. So we have been preparing to be able to import two to three tons per day. At present, you can purchase in Yangon. Later we have intended to sell them to Mandalay and Taunggyi. This is what we expect as a future plan.
While most of the fruits are not chemical-free organic, what problems are encountered in growing organic fruit?
Organic fruits are more expensive overseas. It is 30% or 40% more costly than non-organic fruits. As our aim is not making profit on the price, we adjust the price to be the same with ordinary vegetables.
Which methods are used, except bamboo distillation, to make organic vegetables?
We use natural compound. Our local plantation expert makes fertilizer from rubbish produced from the farm so as to save the cost. Organic vegetables are being grown by depending on bamboo distillation and that fertilizer.