Khinmaung Yin 75 Art Exhibition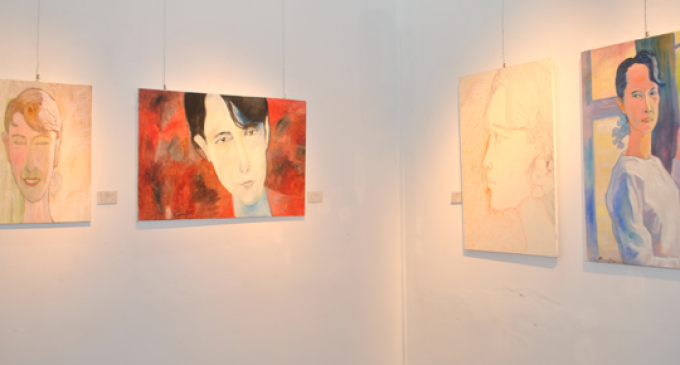 As an honour of 75th birthday for artist Khinmaung Yin who was born in 1938, an art exhibition was organized at Gallery 65, Yaw Min Gyi Street, Yangon, from 8th to 10th November, 2013. The event was arranged by U Thein Win (PMG) who has collected paintings of artist Khinmaung Yin, and the exhibition displayed over 60 pictures. The starting day of 8th November was 75th Birthday of artist Khinmaung Yin, cherished by Gallery owners, artists and collectors of the artist's works. Here are some excerpts from the visitors:
U Min Lwin 
Gallery 65
One of the objectives of our gallery is to promote Myanmar art & culture. And we want to promote Myanmar art & culture by means of cash or capability as best we can. With no censorship at present, we are having a lot of freedom. Formerly forbidden subjects like politic or nude themes were drawn by artists but unable to put them public at the gallery. Now everything is open. In this exhibition, you'll see  three nude pictures by Sayar Khinmaung Yin, and for political theme, we display six images of Daw Aung San Suu Kyi, previously not revealed.
I've been fond of artist  Khinmaung Yin and his paintings for many years. Sayar is not very well, but still being able to paint. Seventy five years of age is not that young. We're inspired by him and we also support him.
Soe Win Nyein
Designer
I am the last student of Sayar Paw Oo Thet. Since I started to learn painting, I knew him (Khinmaung Yin) as a best friend of Sayar Paw Oo Thet who used to talk about him. He's the one admired by Sayar Paw Oo Thet. Also, Sayar Khinmaung Yin has few greed and he sets no specific time for painting. He lives by his own nature. I'm still  joyfully proud to see his artworks.
Dr Tun Tun Naing
I've collected paintings of artist Khinmaung Yin since seven or eight years ago. A total of about 15 by now. Sayar Khinmaung Yin is a man of simplicity and always finds it pleased to create paintings. People who come to look at his artworks become delighted, with less greed, hatred or pride. That's why he's living his life peacefully and happily. He might lack physical wealth, but I'm sure he'll continue his works.
He's healthier now than the last time I saw him two years ago. Longevity for those with peace of mind. I wish Sayar live longer to keep up his artworks.
Bo Bo
THIRIWAIMON Gallery
Sayar Khinmaung Yin can be named as a pioneer of the world of art. He does what he likes, and that works too. He's such kind of artist, also different from other artists' creations. What I'd like to point out is that his paintings can get to international sphere. It's a huge opportunity for him to be able to live such an old age. Also good for our field of art, as some artists around his age had already passed away. Still he's healthy and can create paintings, to my pleasure.