Kayan Kangan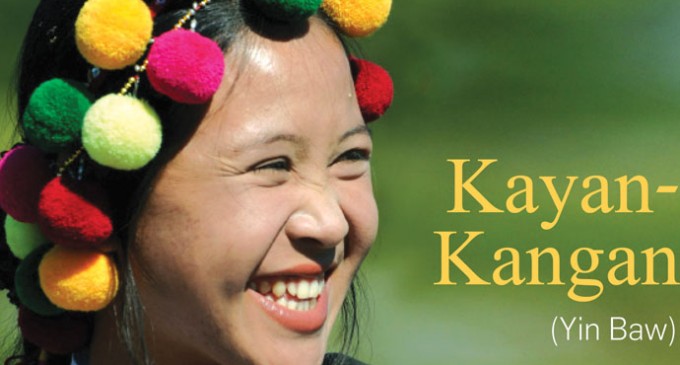 A Kayan national tribe, called "Yin Baw" lives in Demauso Township. Their name was given to them by the Shan nationals and it means silver plate of the finest quality. The "Yin Baw", however, prefer to call themselves the "Kayan-Kangan".
The Kayan-Kangan women use silver plates to decorate the top half of their body and their neck. A special headdress is made separately for the traditional festivals. The headdress has beautiful beads and multicoloured woolen balls attached to the rim.
Some of the Kayan-Kangan's words are similar to those spoken by the Kayan, Gaikho, and the Rawang. As the transportation system in Kayah state is not well developed, the Kayan Kanga's accents changes from mountain to mountain-though the words remain the same.
One of their main crops is rice. After the paddy is harvested, it is kept in the sun and then pounded. In the afternoons, the whole village rings with the sound of paddy being pounded. It is very melodic tune.
During the festivals, the frog drums, rectangular shaped bells, gongs cymbals, long drums and flutes are played. All of the Kayan tribes consider the frog drum to be the most suspicious. It is only played at the most important ceremonies and at noble places. Usually the frog drum is stored in the paddy barn together with other precious items such as gold, silver and other valuable items. Every house used to have a frog drum but nowadays that is not the case.
Among the trumpets used by the Kaya nationals is the hunting trumpet which is made out of the horns from buffalos. Each horn can only play one note, but when a number are played together, different notes can be heard. The horn is usually played as a solo instrument, and usually during hunting.