INDIA – MYANMAR 2014 TRADE AND INVESTMENT SHOW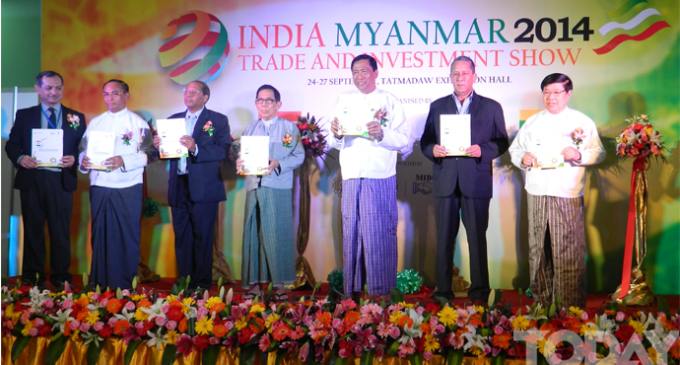 It was noticeable that India Myanmar 2014 Trade and Investment Show held September 24-27 at Tatmadaw Convention Hall attracted a lot of visitors. So a glimpse on it and the following facts on interesting Indian brands have been gathered to be shared with the reader.
Based in India, our company specializes in production of glass furniture. D'BORO, a new brand, stands for Decoration with Borosilicate Glass. Our material is unadulterated and we can vouch for its cent percent clarity. It can withstand heat or cold or fire. Products with various designs, such as Centre Table, Dining Table, Conference Table, Partition, or Flower Vase are available. We came here to make a show of them and find business partners. This trip is our first outreach abroad. Our products smacks of luxury so we'll target consumers in the know of glass products. After jewellery glass goods are most beautiful objects. Our products at reasonable prices might sell well in emerging Myanmar, we hope.
Myanmar, a neighbouring country of India, has some similar languages and culture. Bilateral relations have existed for long. Held in high regard on our part is Myanmar teak. Myanmar now has great prospects, but our investors' stake here is very low. The objectives of this show is to let Myanmars know what products and services India has to sell, and which sectors are open to partnerships. Moreover Indian government may well be enlightened about investment opportunities here. Multi-sector products in this show cover agriculture, laboratory, hospital, pharmaceuticals, construction materials and textiles. Our famous brands should be accessible to Myanmars, and I suggest Indian businessmen invest in Myanmar. Apart from enthusiastic support for this show from Myanmar side Minister for Industry and UMFCCI chairman themselves graced the show to make it a success. Through it we wish to prove bilateral friendship and cooperation for long.
Our products are mainly meant for the field of medicine. It is about Endoscopy Solution, featuring Bronchoscope, Gastroscope, Colonscope, Urology, Laproscopic Hand Instruments, ERCP, UGI & LGL, Digital CCD Camera and Lighting equipment for surgical work. Such products made in Germany or Japan are quite costly. We would like to win a market here, as our products are already in use in Pakistan, Bangladesh and Sri Lanka. We have big hopes for our products because Myanmar is developing technologically.
Our company is getting out products in the surgery field, which are fabricated most properly in line with surgeon's suggestions. They include multiple position OT Table, Surgeons' Chair, Recovery Trolley, and surgical instruments. This is our first penetration into Myanmar, and it will be carried out gradually to make our Brand familiar. It occurs to me that now is the time to enter Myanmar for its gradual development. Our products cost from USD 6,000. Expansion of medical facilities should be a help to our products.
Our company especially favour handmade garments and accessories. We produce eco-friendly clothing using natural fibre, herbal colouring and non-fuel handlooms. I've been awarded National Award for Master Craftpersons & Weavers 2005, 2006 and Shilp Guru Awards 2006. Our products like towel, lace shawl, scarf, cap, socks, gloves, and jacket are hand-woven with wool or the hair of rabbit, yak or goat. This is our first show in Myanmar so that our handmade clothing would be known to Myanmar people. In fact I thank them for their favourable purchases. I hope for more purchases of our warm clothing. They cost from kyats 12000 to 60000.
Translated by-Khin Aung(Eng)