GE Capital Aviation Services (GECAS) to Lease 10 New Boeing Aircraft With Myanma Airways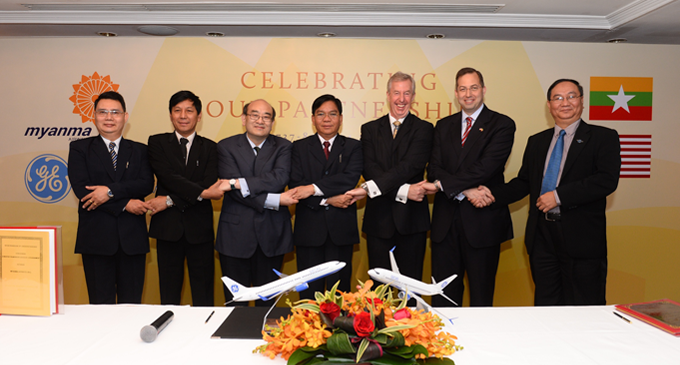 GE Capital Aviation Services, the commercial aircraft leasing and financing arm of GE, had announced on February 11st 2014 at a press conference prior to the 2014 Singapore Air Show, that it has signed a contract with Myanma Airways, the flag carrier of Myanmar, to lease 10 new Boeing narrow bodies.
Deliveries of the new leased aircraft are scheduled to begin in June 2015 and come from GECAS' existing order book with Boeing. The contract calls for six Boeing 737-800 models and four Boeing 737-8MAX models. The aircraft will deliver through 2020. Established in 1948, Myanma Airways is the state-owned airline of Myanmar, currently serving all major domestic destinations from its main base at Yangon International Airport.
"We are pleased at GE to work with Myanma Airways to provide new, state-of-the-art Boeing aircraft," said Norman C.T. Liu, president and CEO of GECAS."This is an important milestone for the airline and for the development of Myanmar's aviation industry.""We are delighted to work with GE Capital Aviation Services to develop and upgrade our airline fleet and expand routes into key markets in the region," said Captain Than Tun, Myanma Airways Managing Director."Our collaboration with a leading multinational U.S. company like GE will benefit the airline and the economy of Myanmar."
Also in attendance at the press conference were H.E. U Nyan Htun Aung, Union Minister, Ministry of Transportation, Honourable Derek J. Mitchell, U.S. Ambassador to Myanmar and Kenneth E. Hyatt, U.S. Acting Under Secretary of Commerce for International Trade. Honourable U.S. Ambassador Mitchell, who participated in the event, has been a strong supporter of GE's efforts to enter the Myanmar market.
GECAS currently leases two Embraer E190 aircraft to Myanma Airways. In addition, GECAS' AviaSolutions consulting business has signed a memorandum of understanding with the airline and will work with its senior management to develop a strategic growth plan for the airline with a focus on route and network development.