Ford's Myanmar Expansion Continues with Opening of First Sales and Service Centre in Mandalay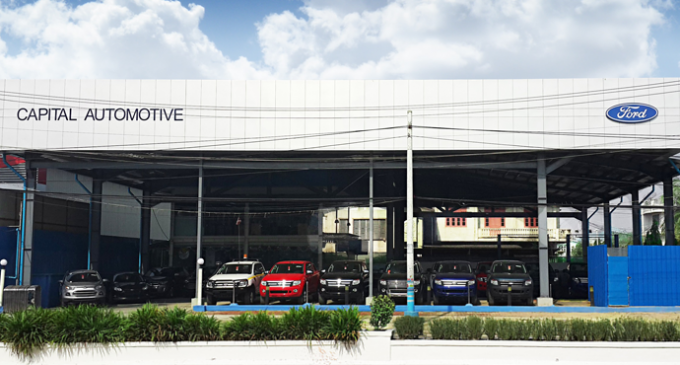 Ford Motor Company together with its local partner Capital Automotive, recently opened a new sales and service centre in Mandalay to better serve the growing number of Ford customers in this emerging commercial hub.
Located on the corner of 10th Street and 78th Street, the new 12,000 square foot facility includes a 12-vehicle showroom, offering a full line-up of Ford vehicles, from the sporty Fiesta to the rugged Ranger pickup. It also includes a four-vehicle service centre to meet the full range of aftersales needs.
"Over the past two years we've grown alongside Myanmar's auto industry, and the opening of this Mandalay facility is the next step in expanding our presence to key locations across the country, helping to provide Ford customers with better access to our brand, professional sales and service, and an unmatched ownership experience," said David Westerman, managing director, Asia Pacific Emerging Markets, Ford Motor Company.
"We were the first automaker to open a global standard facility with sales, servicing and spare parts under one roof in Yangon, and we are proud to be the first to extend this to our Mandalay customers."
The Mandalay facility is equipped with the most up-to-date diagnostic equipment and special tools to provide Ford Authorised Service. The facility will also maintain a full supply of genuine Ford spare parts.
Additionally, all sales and service staff have received extensive, hands-on, skills training to ensure the highest level of both sales and technical service. An experienced Ford Master Technician is also based in Mandalay to mentor local staff.
"As Mandalay continues to develop, so do the needs and requirements of our Ford customers," explained U Khin Tun, managing director, Capital Automotive Limited.
"For private buyers, this showroom provides access to a full range of Ford passenger cars, trucks and SUVs. For our commercial customers – like those in the mining industry – time is money, and they've told us how important it is to have access to high quality, efficient servicing. This new service centre will offer them that peace-of-mind."
The Ford facility in Mandalay is open from Mon-Sat, 8:30am-5:30pm; Sun 8:30am-4:00pm and can be reached at (02) 56 018.