FMI LIPPO PARTNERSHIP IN US$420 MILLION NATIONAL MYANMAR HOSPITAL ROLL OUT In the Spirit of Indonesia-Myanmar ASEAN Brotherhood Cooperation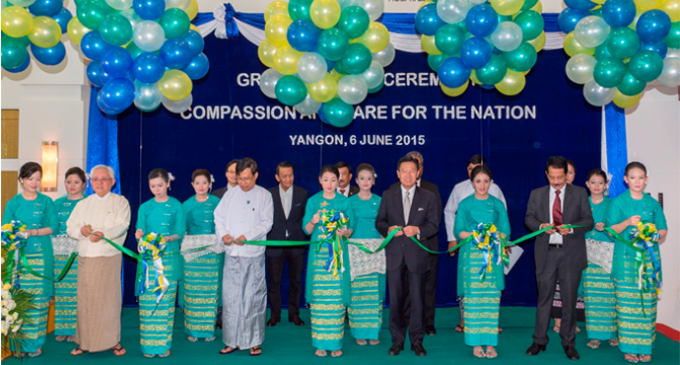 First Myanmar Investments Co. Ltd. (FMI), together with the Lippo Group of Companies (Lippo) from Indonesia, celebrated the official launch of a healthcare joint venture with a US$420 million national roll out in Myanmar on 6 June 2015  . The joint venture is a realisation of an Indonesian-Myanmar ASEAN brotherhood cooperation spirit.
FMI is represented by Mr Serge Pun, Chairman of the group and Lippo by Dr James Riady, CEO of the group.
The launch of the national cooperation is marked symbolically by the completion of a US$10 million total upgrade of equipments, systems, clinical and service excellence and globalization of its leadership and clinical expertise.
The celebration also marks the formal approval of the joint venture by the Indonesian and Myanmar Governments, with Myanmar Investment Corporation (MIC) approval granted on 7 April 2015, Certificate No 923/2015.
The joint venture is targeting up to 20 Hospitals in its national network over 10 years focusing on the first 12 hospitals within the next 3 to 5 years. The Pun Hlaing Siloam Hospitals with a 400 strong clinical and management team has been transformed to be the leading hospital to support the national network. The partnership combines the strength of Pun Hlaing – FMI plus the regional financial and operational power of Siloam – Lippo Group to offer Myanmar people an increased standard of living through better healthcare.
The venture anticipates and supports the Myanmar Government's policy of creating jobs and increasing the standard of living through healthcare, education and investments. The Pun Hlaing Siloam Hospitals aims to grow into a US$2 billion enterprise with US$400 million in annual revenue supported by over 12,000 physicians, nurses and healthcare experts serving and treating over 4 million patients annually.
Siloam Hospitals group will apply its expertise to take Pun Hlaing Siloam Hospitals to full global JCIA clinical and service excellence accreditation standards within 12 to 24 months. It will apply a 'Multinational Philosophy' of always bringing international resources and expertise to achieve its goal.
The event will be celebrated by over 300 VIP's, guests and the complete Pun Hlaing Siloam Hospitals team.
The ceremony was officiated by Director General Professor Myint Han on behalf of His Excellency Dr Than Aung, Union Minister of Health. In attendance were U Theim Wai @ Serge Pun, Chairman of SPA Group; Dr James Riady, Chief Executive Officer of Lippo Group; local healthcare organisations; together with a 30 strong delegation from Indonesia including Edy Putera Irawady, Deputy Coordinating Minister for Economy Affairs of the Republic of Indonesia; His Excellency the Indonesian Ambassador to Myanmar, Police General (Ret); Ito Sumardi; Dr Hasan Wirayuda, Advisor of the President of the Republic of Indonesia and Indonesian Foreign Minister (2001-2009); Pius Lanang, Member of the Parliament of the Republic of Indonesia; Emirsyah Satar, Director, Lippo Group and Chairman of MatahariMall.com, as well as leading chief editors and journalists from Indonesia.
"Myanmar's economy is rapidly growing and with this comes the demand for high quality international healthcare. The time is right for a premier nationwide hospital network to support the market. With our proven track record through Siloam International Hospitals as the national healthcare leader in Indonesia, we are confident of replicating the successful model here with Pun Hlaing Siloam Hospitals. This hospital will serve as the cornerstone to showcase the transformational efficacy of our approach to deliver national coverage," said Dr James Riady, CEO of Lippo Group.
"It gives us great pleasure to bring innovative service models, operating systems and facilities to the healthcare sector in Myanmar. People will benefit from the enhanced level of patient-centric care available at tier-based prices, suiting their diverse medical needs," said U Theim Wai @ Serge Pun, Chairman of FMI. "It is more than a new name for the Hospital – it signifies a new vision for healthcare standards here in Myanmar. Together with Lippo Group, we have made a commitment to deliver globally benchmarked medical care to more people in Myanmar."
Pun Hlaing Siloam Hospitals has a dedicated 24×7 'On Duty' Emergency Services with state-of-the-art imaging equipment and ambulances. Additionally, the hospital boasts six laminar flow HEPA filter operating theatres, a designated maternity ward, an integrated and centrally monitored intensive care unit, a modern clinical laboratory and a Continuos Patient Monitoring System that is a first in Myanmar. Looking to cater to more patients, the bed-count has expanded to 174; with 38 of these beds priced at 10,000 kyats per night, making it accessible across the socio-economic spectrum. Pun Hlaign Siloam Hospitals will be based on a doctor first philosophy empowering doctors and nurses to serve and treat the patients excellently and well.
"Pun Hlaing Siloam Hospitals now features a dedicated team of exclusive Myanmar and International specialist doctors who have returned home from Hong Kong, Singapore, Borneo, Malaysia and the UK – available at the hospital 24×7 to provide continuous care. " said Dr Gershu Paul, Executive Chairman of Siloam Hospitals, Indonesia and CEO of Pun Hlaing Siloam Hospitals. "The ability to recruit over 20 specialists over the last 4 months has now positioned us to be able to offer world class 24×7 clinical care that ensures patient centered care."
"The continued development of the healthcare sector is crucial to Myanmar's growth and we are encouraged by the significant investment in Pun Hlaing Siloam Hospitals. This is a momentous first step that will help improve the position of Myanmar healthcare, putting it back on the map regionally and beyond. Apart from positively impacting the medical field, we will see other related benefits from the venture; increased employment opportunities, improved domestic revenue for the sector and stimulated growth activity in the businesses and communities around the hospital," said Prof Myint Han.
As a caring and compassionate organisation, Pun Hlaing Siloam Hospitals is engaged in Corporate Social Responsibility (CSR) initiatives including the organisation of free health clinics over the next two years in the surrounding villages. These health clinics will focus on different clinical needs, including blood pressure monitoring and treatment, dental, osteoporosis, diabetes and cataracts. There are also free calcium score screenings planned at monasteries.