Florian Eberhardt (Executive Chef Savoy Hotel Yangon)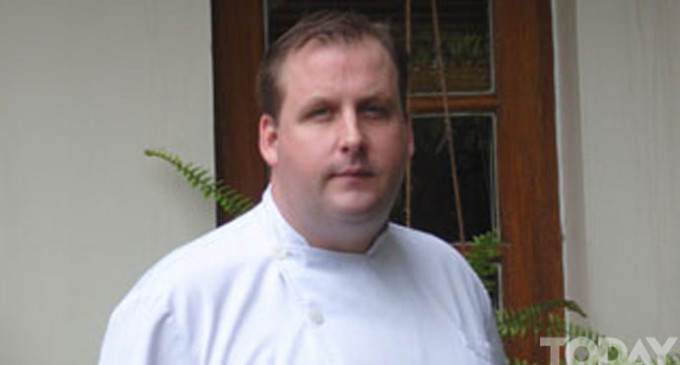 Mr Florian Eberhardt joined Savoy Hotel Yangon in 2016 and soon after that he has fallen in love with the country and its people. In his earlier career paths, Florian started his apprenticeship in a Michelin Star awarded restaurant in Dusseldorf (of Germany). Later he worked in a couples of best restaurants in Berlin and also in Switzerland before he moved to South East Asia. Throughout his stay across Asia countries, Florian has a good mixture of experiences including creating culinary offers with respective countries' local ingredients to setting up a functioning team to manage the clients' high-end expectation. Florian live in Yangon with his wife, who he met in Thailand. Followings are what TODAY find out about his experiences in SEA countries and in his current position as Executive Chef at Savoy Hotel Yangon.
Tell me more about your adventure in SEA countries before you end up here in Myanmar as Executive Chef @ Savoy Hotel Yangon?
Since 2010, I've lived and worked in Asia. First started in Bangkok, I worked as the Chef de cuisine in the Ma Maison Gourmet Restaurant, of Swisshotel for about two years. After that I went to Vietnam to work with The Nam Hai Resort in Hoi An as Executive Sous Chef for almost three years. As the opportunity came up I went to Bali, Indonesia to work for the new opening of The Chedi Club Jimbaran as Executive Chef. I also went to Philippines but I felt that the country wasn't for me, so I left. South East Asia is a continent I like to live. Since I made a world travel in 2006, I have always wanted to work here. After the Philippines, I was thinking which country would be interesting. And I have never been before to Myanmar. As I waited for the right opportunity, I was able to join Savoy and now I've been more than a year in Myanmar.
What is your first impression about Myanmar?
I like to work with the people here. I like it because it's very fast developing country. In my sector, the suppliers are also developing very fast within one-year time.
What will be the differences in working environment between Myanmar and other SEA Countries you have been working in?
The difference is suppliers, the supply system. Local regulations can be a challenge at times. Regulations relating to food and wine imports although important and necessary, could adjust to accommodate the growing demand.
The good point of working here in Myanmar is to work with people. Now I have very good staff. They are very reliable."
How you find experience in working with your team and other staff at the restaurant? 
It's good. Most of the people in the kitchen and the service staff are not very experienced at first. Now I've got a very good team, all my sous-chefs as well as my service supervisor have international working experience. So, all the key positions are filled with very competent people. That's very important because they need to train our waiters or coming chef, which will be difficult if they didn't have exposure. We provide English classes as well. Overall, it is a good working environment.
About the menus at le Bistrot and the Kipling's Restaurant, the pool bar?
Le Bistrot has classic and modern dishes. We have as very good business lunch as well as our a la carte is very popular now. We have a good base of regular customers who come here for business lunch, a la carte or for drinks and snacks to our captains bar or poolside bar where we recently introduced Myanmar's first craft beer, people like that. At Kipling's restaurant, we have a Green Pan Asian Cuisines. The menu consists of all my favorite dishes from the countries where I've worked: Thai, Vietnamese, Indonesian, some Myanmar food and Japanese food as well.
You have Boutique Brunch at the Kipling's Restaurant?
Yes, on every second Sunday, we have brunch. This is a very small hotel and we don't like big buffets. So we have a la carte one with a selection of 15 starters, 15 main courses and 6 desserts. Starters are all tapes sizes served in small bowls. You can eat as much as you want. Main courses are a little bigger. But not full main course portion, you can order as much as you want. All freshly-cooked. No big buffet line in which the food sits for hours, looking dry and not appealing any more.
About future plan for the restaurants?
Now I've been here for one year. We've roughly shaped the menus of menus, concepts for all outlets, now it's time to refine, fine-tune all the things and develop business further. We would like to extend our Boutique catering service as well.
What is necessary to be a good chef?
I had a few other jobs before I started my apprenticeship as a chef. For me, cooking is what I like to do. You cannot be a chef if you are not passionate about what you do. For me, that is what I like and what I want to do.
You have been working in Southeast Asia for about 7 years, can you pls tell us about your tastes in food in these countries? The Differences from European food?
Asian food is completely different from European food. For me, I really like Asian food. The most delicious and freshest food in Asia is Vietnamese food. Because they have fantastic vegetables coming from Dalat regioin. Vietnamese food is fresh with lots of herbs. As I worked there for about three years I still discovered new dishes regularly. Thai cuisine is very good as well but you need to be used to with chili. Indonesian food is nice as well but heavier like Burmese food, the curries are very rich and complex.
Do you like Myanmar food?
I like porkbelly curry, some fish curry and tea-leaves salad. I have tried some very good tea-leaves salads and also very terrible ones. Tea-leaves salad is very delicious if done right. There are very delicious noodle dishes here, and I like Shan noodle salad with eggs and crispygarlic toppoings, and (Golden Mountain) Shwe-taung noodle etc…
Can you talk about the restaurants you like in Yangon?
I've been to some restaurants that have been recommended to me. I like Rangoon Tea House. There is a street restaurant, where the local food is very food.
Where if you come earlier enough, you get food and if you late food is out. So it's like first come first serve, I don't know the name but I know where it is. Then there are some other good restaurants in town, some free standing, some hotel restaurants.
Have you ever been to other places outside Yangon?
Not yet because of no time. But I have plan to go and see after the rainy season. We have another resort in Ngapali and in Bagan so there're a lot of places I have to visit.