Daw Nyo Nyo Sein Managing Director U Kar Ka Co.Ltd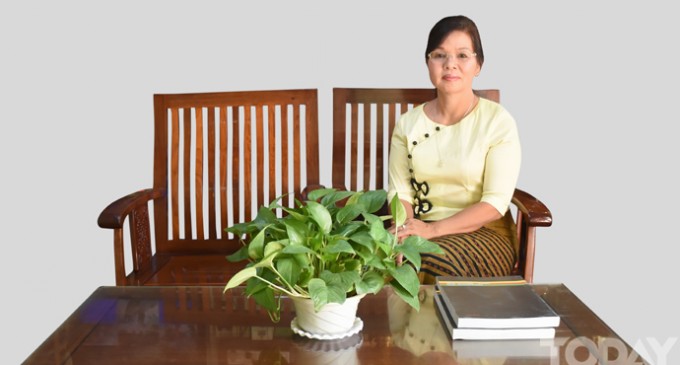 Educational Background
I got a B.Sc degree (Hons) in Physic from Yangon University. I came to work for family business as my father sent me to Mandalay to help with my aunt's business.
The beginning of the tea business and the present situation
U Kar Ka plus Daw Sein tea business was started by our grandfather U Kar Ka and grandma Daw Sein in 1928. Before World War II, tea and grocery was started. As for second generation, Daw Kyin Than, my aunt led the business, and when my turn came, I stared organizing the business since the past 30 years. At present, I continue to work together with my nephew, who is fourth generation.
How many kinds U Kar Ka tea are produced?
The kinds of tea are Spirit Leaf Tea (Nat-Thit-Ywet), First Flush Tea, Zayan-Sour (Zayan-chin) Tea, Roasted Tea, Pinlaung Tea and Jasmine Tea, dry and wet, comes in six kinds of preminum quality, three kinds of medium quality and one kind of cheap price, totaling ten kinds.
Where do U KarKa tea business get raw material from?
We get a lot from northern Shan State and we also get from southern Shan State.
What preparations are made for your products to be suitable for health?
Tea from the hilly region has been fertilizer-free and pesticide-free since the olden days. Thus tea from Myanmar has been awarded Organic Certificates by Control Union for being free from chemicals. Myanmar tea plants are above-ground resources of Myanmar. Because of good soil and being organic, it has really been a herbal medicine for those who want to keep healthy. Such good-for-health teas are cleanly and systematically packed with the ISO QMS system.
Wet tea is produced by removing pests with the latest technology of Japan without the use of chemicals. Giving main priority for health, germ-free tea, which is so chemical-free that consumers can unconcernedly use it, has been successfully produced. Since tea consists of six kinds of bacteria and two kinds of mold, it does not last long. Tea pack, recently produced, is germ-free and so it lasts for one and a half years.
How are attempts being made to penetrate the Japanese market?
A Japanese tea distribution company, interested in Myanmar tea, has been observing it for three years. They have offered to refine tea, produced by our company, so as to suit the taste of the Japanese. We are also trying to make it as acceptable as possible. Our products could have the premium quality (worldwide favorite) if we could meet their needs.
What is the future plan for U KarKa tea?
We are making efforts for Myanmar tea to be an honor to our country, Myanmar. Attempts will be continued in order to help tea-growing hilly regions develop and to be proud of our (edible) tea internationally. We also intend to create new ways of eating tea so as to be more widely tasted, in addition to the conventional way of making tea-salad.