Daw Hnin Aye Khaing, Managing Director, PH Global Co.,Ltd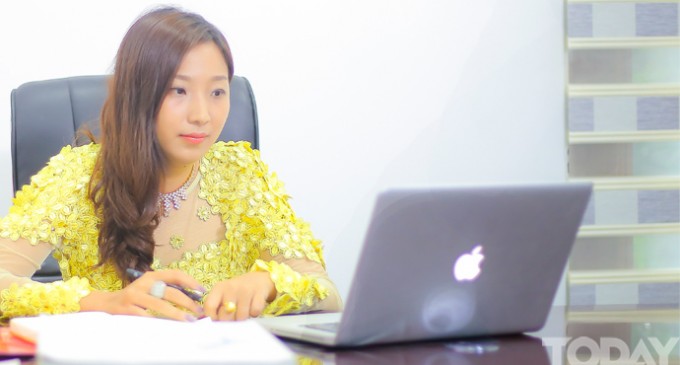 Daw Hnin Aye Khaing heads PH Cooperation, importing interior material from several countries. She also has a bent for travel, and leads the running of 2K Travel & Tour. Her efforts and lifestyle were enquired in a recent interview of her.
PH Cooperation has three subsidiaries: I am Managing Director of PH Global Interior Total Solution and Material Supply Co Ltd, and a Director at Art Royal Construction & Development Co Ltd and 2K (Khaing & Khant) Travel & Tour Co Ltd.
About PH Global industry-wise…
One out of the two divisions is Building Material Supply, and for Decoration at that, for International Projects, Luxury Condominiums and Luxury Residences. Then our Engineering  Teams can be hired if necessary for installation. The other division is Project Management, mainly Interior Project from beginning to end. Here material of Clients or Architects choice is used, while we are held responsible for Engineering, Quality Control and Time Management, all step by step. We have too many International Projects to handle Design. Their architect has put forth Design, we just import the Material they desire and install it.
In importing, which countries are associated with you?
Currently Korea, Japan, China and Thailand, sometimes local material is used.
Material's Quality…
      As wer'e Importer and Distributor we have no manufacturing control. So Manufacturer is chosen with great care. We try to see whether Material is up to what they claim, and goes well with our climate.
 How is Customer Trust won?
Projects are serviced to be in time. Client or Developer, they tend to believe in in-time completion of projects.
 Interior material you are importing…
We supply all interior material mainly for Interior Door, Flooring , Painting, and Furniture.  Furniture includes Kitchen Cabinet, Wardrobe, Office Furniture, Living Room Furniture, etc.
Which business Partners you are involved with?
Our Manufacturer Partners for Interior Door, Fire Rated Door, and Toilet Partition are: Sunchang ITS (Korea) and sunwood. For Furniture they are Chinese companies. First and foremost, my choice of a Partner is checked against how much that company knows about local market and to what extent it can supply.
Your view on Recycle material in Decoration…
That is Green Environment. And why we partner with sunWood. Some doors are made of recycled material. It seems good for the future of planet Earth.
Travel  & Tour Industry…
      I am responsible for Operation in Travel & Tour, which is a joint venture between two friends. My friend takes care of Sale & Marketing and Official Management. In association with Air Ticketing and foreign companies we service both inbound and outbound trips.
Strength of Staff and their challenge…
The whole PH Global Company Group has about 120 staff. The challenge we face is Human Resource Management. Employees have emotional thought, which sometimes grow worse and harm business operation.
Futrue Plans…
By year-end of 2016 we might produce and distribute wall putty with our own brand. Moreover we have been individually preparing an agricultural project in Upper Myanmar, and it may well be implemented in 2017. Another plan is we will develop affordable housing with our won means.
For the sake of learning…
We are associated with Korea companies also, so I am learning Korean at present.
Are Individual Clients being serviced?
Interior is taken care of for Individual Client, and we supply him for Design.