Bloomberg Invest Myanmar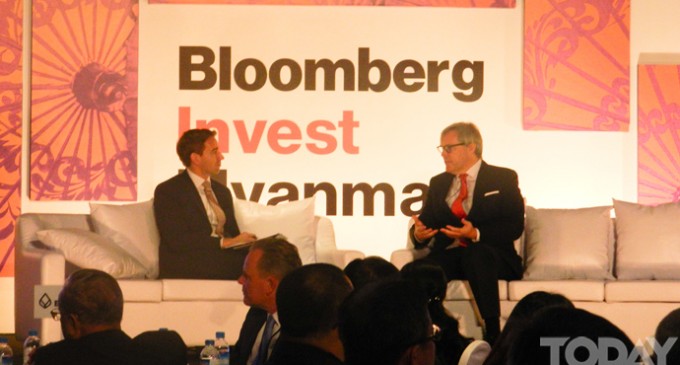 Bloomberg LIVE, one of the media platforms of Bloomberg Media which broadcasts the international events, organized "Bloomberg Invest Myanmar" executive event on March 9, 2017 at Sedona Hotel, Yangon. This event is the very first event organized by Bloomberg in Myanmar, where the policy makers, investors, and corporate leaders from top regional and global institutions discussed about technology innovation, financial markets development, trade liberalization, and regulatory reforms.
TODAY had the chance of meeting and conducting the interviews with the responsible persons and executive speakers of the event, the information of their responsibilities are as follows:
David Merritt
Senior Executive Managing Editor
Bloomberg (Asia Pacific)
What is the main purpose of organizing this executive event?
The main purpose of this event really is to answer the questions that our readers and audience around the world proposing. They want to understand more about what is driving in very highest grades in Myanmar. And how can they invest and participate in that. That's what we've been prepared. We tried to answer questions, to explain and provide transparency to our readers around the world. So, that is the first reason and the main reason. The increase in demand for information about what is happening in this country, in this economy. And the second one is that just getting a full hope, exploring how we can have more journalistic presence in Myanmar as we do around many other countries and the regions. So being here hosting this event is a great way to announce our presence here. And hopefully, it will lead on to a great involvement in the media landscape here in Myanmar.
What is the Bloomberg's very near future plan in Myanmar?
Well. I can't speak from business side because I run the news of version. But I know that, my colleagues here told me that they are optimistic in the future on the news side, we are certainly exploring opening our first news periodical here. We don't have any concrete plans right now but I'm optimistic that within the next year or so, we will have actual journalist based here as well. We have a more emote, we have media partnership around the region, and involved what we broadcast on televisions, websites or magazines. We are certainly looking for that option here as well.
………………………………………………………………………………………………………………………………………………………………………..
Peter Beynon
Chairman (Myanmar & Cambodia)
Jardine Matheson
Your opinion on this executive event and the facts that you've been discussed
My main reason for discussing in this conference is to promote Myanmar. Since the period of the former Government, Myanmar was not known among other foreign countries. So, I'm here representing myself as a speaker to connect Myanmar with inter-national financial institutions. For the time being, Bloomberg will broadcast this live conference to the world and the people around the world can understand the current situations of Myanmar. The main message that I wanted to give today is the liberalization. For example, we have to liberalize most of the financial, industrial, and business sectors. Liberalization is of great importance to develop the economy of a country. If we liberalize it that way, the foreign investors will have a chance to do their business freely, and the locals will be offered with a lot of job opportunities.
………………………………………………………………………………………………………………………………………………………………………..

Nguyen The Nghia
Deputy General Director
Viettel Group (Viettel Global Investment JSC.)
Could you please tell the present conditions of Viettel Group which will invest in Myanmar?
Viettel Myanmar will cooperate with Star High Public Company Limited, and will run the Myanmar's fourth Telecom operator as Myanmar National Telecom Holding Public Ltd.
We have seen numerous mobile markets in the last couple of years. We have seen that more than 50% of people haven't use any mobile yet. So there is a lot of space in the market for us. And also the service quality is not as we expected. Thus, we will try our best to provide the best service quality, capacity, and coverage.  There will be four mobile operators in Myanmar, and we will try to get 25% of the market like the other operators here.
The customers will be able to use our Viettel services at the beginning of 2018. We will construct more than 5,000 mobile towers at the beginning of 2018. For the fully developed mobile network, we need about 15,000 mobile towers. We will have some difficulties in building mobile towers in different areas. And the other thing is like an infrastructure: good access and electricity take some times. But we have experience in those kinds of situations from other countries. So we know how to live with that.
How will you provide your services to the people in rural areas?
We have already planned, and tested in which way we could provide the best service. So, people will have a chance to use all kinds of our services.