An interview with Dr. Thet Thet Khaing, owner of Shwe Nan Daw Gems & Jewelry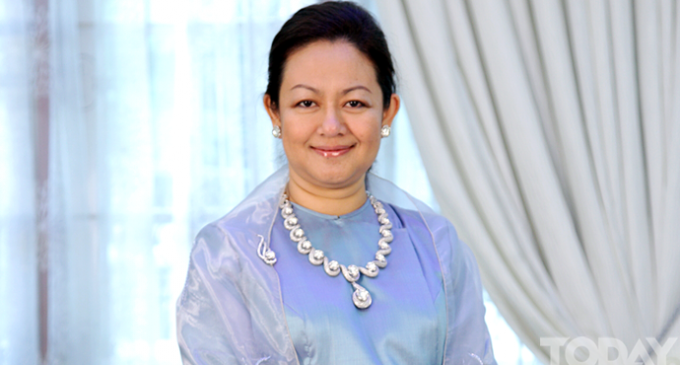 A successful businesswoman given to good management and continuous learning, Dr Thet Thet Khaing is now taking initial steps in politics.
Your Continued education and organizations of your membership…
I obtained my M.B,B.S in 1993 and opened Shwe Nan Daw Gems & Jewelry set up for us by my parents when I married. While in business, I obtained MBA from Institute of Economics in Yangon as well as Singapore's NTU. Now I am working on PhD Thesis of public Management and Leadership through an online program. Also, I am Vice-Chairperson (1) at Myanmar Women Entrepreneurs Association and Joint Secretary-General (3) at UMFCCI.
Your Family
My spouse Ko Aung Kyaw Win is in business together with me. Our only 16-year-old daughter is in Grade 11 at International School (ISY). She is given home tuition in Myanmarsar and Chinese. Her school has French for second language. I myself teach her Buddhist teachings and Prayers to keep her in touch with Myanmar Culture.
Apart from Shwe Nan Daw and Forever Gems shops, you are into construction as well. How do you manage to be effective?
My parents-in-law gave us capital to establish Shwe Nan Daw. Firstly we bought gold to have it turned into jewelry by outside goldsmiths. We sold the end product. Then Business Starategy taught at school enlightened me: It was dependence on others in design. To be innovative, I should visit international fairs and observe. Today Jewelry industry is manual, machine-made, or even computer-aided. So for product we invest in technology, in design. We should not lose sight of global trend, international trend and local trend.
We are investing in service also, through careful training of employees. My husband is always for building a relationship with custo-mer. So he is a role model in management to me as well as the employees. It is leading by example, and brings us success. A good system should evolve over time which would lead to effective management. Then more business and more employees will be no problem.
In regard of Design at Shwe Nan Daw, Forever Gems…
Our designers know about visual art. Some former goldsmiths have turned designers for their love of Jewelry Design. Designers together with sales force and marketing go for teamwork. We overview a designer's creation for price, amount of gold to be used, price of diamonds. Design modifications also are taken into consideration. They are actual makers and we give inputs.
Design modifications due to Myanmar likes…
Formerly a piece of jewelry would have a large diamond surrounded by a bit smaller ones, making it gaudy and protuberant. Today such surrounding diamonds would be very much smaller. Fashionable pieces today are made with finely executed artwork. Such knowledge results from visits to international jewelry shows and study of catalogue updates. It is also the result of visiting jewelry websites and facebook. With a little modification to jewelry pictures online and in catalogues we have a design of our own which is also trendy.
What about loyal customers?
With a business 21 years old there are a lot of loyal customers. Our fairs usually have a large attendance. Some buy regularly, some for having extra cash.
Your Singapore outlet . . .
It opened from 2007 to 2014 only. The first three years saw rising sales but it levelled off towards the closure. Over there customers were brand-fixated and their market was hard to penetrate. Major customers were foreigners and Singaporeans aged 40-60. My shop had four employees only and general management was easy to handle. But competition was too much to bear with. After 2010, I became familiar with international conferences through connec-tions with UMFCCI and MWEA [Myanmar Women Enterpreneurs Association]. Then I came to be decided about entry into politics from 2014 onwards. My company in Singapore – Brand name: LUSH – was well known for its wedding rings. Experiences coming from that venture are: International Business Practices, Payment, Shipment, and relations with foreign workers.
What risks and sacrifices you as an entrepreneur have made upon entering a political life?
I will have to leave our business aside. My partner Ko Aung Kyaw Win will play a leading role, as he has been doing so since long ago. This family business is not lost to me. I just prefer to make an investment to the benefit of the public and coming generations.
Status of Shwe Nan Daw's online marketing . . .
We communicate with public and customer through facebook. It is online marketing and not e-commerce yet. In e-commerce of jewelery payment and shipment are not easy to execute. A prospective customer should buy jewelry in person as they are expersive. Some are likely to say I own both Shwe Nan Daw and Sein Nan Daw. In fact Sein Nan Daw is owned by my husband's sisters. We ourselves has two Brands-Shwe Nan Daw and Forever Gems with four outlets and a goldsmith's works.