AMCHAM's Charity Golf Tournament Raises $16,000 for Student Scholarships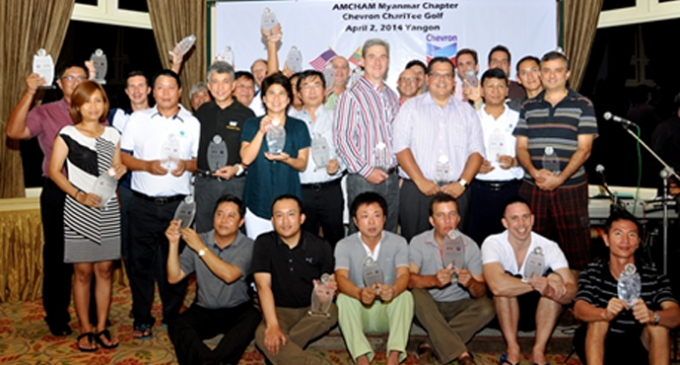 On April 2 at the Pun Hlaing Golf Club in Yangon, members of the business community in Myanmar gathered for a charity golf tournament organized by the American Chamber of Commerce (AMCHAM) Myanmar Chapter and sponsored by Chevron. The proceeds from the event will benefit underprivileged students at Yangon University. Fourteen teams competed in three flights with CEA Projects & Logistics winning the Professional flight, Myan Shwe Pyi Tractors coming in first in the Championship flight, and a mixed team comprised of Isami Holding, Parami Energy, PWC and Santa FE Mobility Myanmar winning in the Weekender flight.
Pictured here are Brad Middleton, Managing Director of Chevron Thailand, and Mariano Vela, President of Unocal Myanmar and Chairman of the AMCHAM Myanmar Chapter, with the winners of the tournament.