2014 PHOTO CITY PHOTO EXHIBITION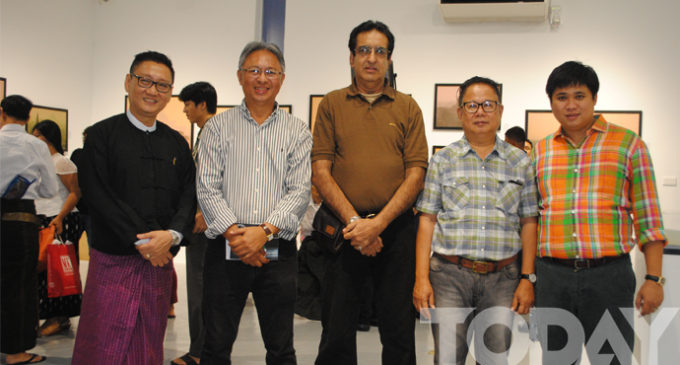 The 2014 Photo City Photo Exhibition held at Yangon Gallery from September 8-11 had the works of U Moe Min (Rays), U Htin Lin (Golden Arrow), U Than Aung (Black & White), U Mya Win (City Rays), and U Aung Pyi Sone (Black & White) on show. The works on Myanmar culture and social life also show aspects of local scenery, people, and other subjects each reflecting the feelings of the artist at the moment of creating it. The opening ceremony on September 8 evening saw many artists and professionals in attendance. The following are what the Photographers recounted on the highlight of their choice, plus some more by Artists and visitors on their favourites.
This is what I saw of a child and its mother, at a village near Kyaing Tone. My main theme is the child, looking furtively from behind the mother, so mother's face is made to appear by half only through cropping (No.1). My Photo City Image Bank is 17 years old, and this Group Show is our fourth.
In making my choice only blurred pictures were presenting themselves, so I settled on the photo of Dhammayangyi Temple in Bagan (No.2). The shot is taken just after sunrise, 4:00 – 5:00 am, I think. It happened considerably long time ago, with the use of Nikon D90.
My title 'Son of Buddha' has 15 pieces, presenting the monastics' lifestyle. It was meant to be turned into LED presentation of our Culture at the opening/closing ceremonies of SEA Games (No.3). It is all made up for the rask of Idea– to reflect Golden Monastery of Mandalay's magnificence life. Long exposure at dusk makes sky blue and stars a possibility. Lighting had to be provided to have the novices still, and Structure pronounced. Light painting, a photography shooting technique, is in play, while, people with burning candles were made to be running. Nikon 800 E was used.
I had 14 photos on show at the exhibition. I am always on tour around the country, all the 14 States and Regions, taking photos. I go for Scenery, Culture,Traditional Festivals. The first photo is of Aungban countryside — of bullock carts passing by a plantation at just after sunrise (No.4). D800E, 80 x 200, 2.8 Nikon Telelens was used. The second is a similar one taken at Pindaya (No.5), taken with D800E, 28 x 70 Nikon widezoom nano lens. I am keen on elephantine pictures. This last photo was taken at an elephant camp, when the animals are about to take a bath (No.6). The camera used was D2x, when it had just arrived on the market.
This is about a scene — Kayan ethnics going shopping at Intein Pagoda, Inle (No.7). It was put on show for its being Black & White. Though film use is fading, my photo is about film and self-developed print.
No comment to make technique-wise. But artistic aspects are especially outstanding. The show answers my expectations: each photo is attractive in its own way.
That is a Black & White, also fitted with a mount like a painting.From several feet off it resembles the pencil drawing of respected artist U Kan Nyunt. It is pure Myanmar scenery with the ubiquitous road-way (No.8). B &W photography is no easy work because people see in colours. The camera in use will be nothing without an understanding of tones.
The event was very interesting indeed. It is hard to choose the best from individuals each with strengths of their own. Each photo carries a special meaning to deserve the Best label.
My favourite photo is the image of sit-ting Giant Buddha with two monks looking down upon it from the outside of the pagoda (No.9). It is amazing use of the fisheye lens. It is very evocative: the two monks looking in are given highlight and Buddha is so strongly lit up with the golden light. It is a most incredible image.
I like this because it is inter-esting history of the site of Bagan (No.10). You see the picture, you see the mystery of Bagan. It is very interesting, representing not only as photo but also as photo art. Bagan is a fantastic place. I think it is one of the most interesting place in the world. I have been to Bagan one time.
Because it is a sunny day, I like the colour; it is very colourful. It makes me to focus on beautiful nature, and feel peace and happy (No.11). The exhibition makes people to know Myanmar more because foreigners think Myanmar is the mystery country, and because we cannot see a lot of photos in our country. It is the best way to know this country well from photos.
Translated by-Khin Aung (Eng)